Things You'll Need
Large craft sticks

Regular craft sticks

Toothpicks

Small rectangular box

Glue gun

Scissors

Paint

Paintbrush

Knife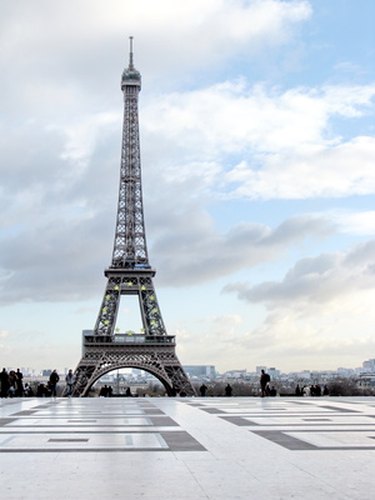 Popsicle sticks can be used to build any number of things, from easy to difficult. An Eiffel Tower, while challenging, can look very impressive when complete. Students can make it for a class project, or an adult may want to tackle the project as a folk-art centerpiece for a party or gathering with a French theme.
Step 1
Cut the box in half. Each half should measure roughly 4 inches wide, 1 1/2 inches deep and 1 1/2 inches tall.
Step 2
Cut half-circles into the long sides of the box.
Step 3
Cut another rectangle out of the other half of the box. This rectangle should measure 2 1/2 inches by 1 1/2 inches.
Step 4
Cut four large craft sticks in half.
Step 5
Cut off the rounded ends of the large craft stick pieces.
Step 6
Cut rounded ends off of four regular-size craft sticks.
Step 7
Cut one rounded end off of each of two regular craft sticks.
Step 8
Paint the craft sticks, toothpicks and boxes brown. Allow the paint to dry before continuing.
Step 9
Glue four large craft sticks with the rounded edges to the underside of the box. Place the flat side inside the box with the round end sticking out.
Step 10
Cut slits in the top of the box. They should be in a square formation so the other large craft sticks can fit inside tightly.
Step 11
Put the large craft sticks inside and glue them in place.
Step 12
Glue the cardboard rectangle on top of the four craft sticks.
Step 13
Take two regular craft sticks without rounded edges and form the top of a triangle. Glue them together.
Step 14
Glue two more regular craft sticks to the triangle shapes to form a steeple shape.
Step 15
Glue the tall steeple to the top of the rectangular cardboard.
Step 16
Cut the points off of eight toothpicks and cut six of them in half.
Step 17
Take six of the toothpick halves and cut them in half again.
Step 18
Glue one longer half and two shorter halves into an X shape. Make six of these Xes.
Step 19
Glue the Xes between the large steeple. These represent the tower steel supports.
Step 20
Cut 1/3 off of the remaining two toothpicks.
Step 21
Stack the two long pieces and glue them together, and stack the two short pieces and glue them together.
Step 22
Glue the longer pieces near the top of the tower, with the shorter stack glued just above it. Your masterpiece is complete!