Things You'll Need
Iron

Heavy books

Rubber rug backing

Scissors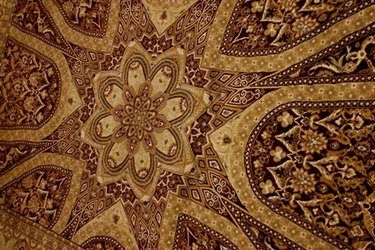 Area rugs come in a bounty of colors and designs, highlighting most rooms in a home. They offer soft footing for laminate or hardwood flooring, but because of the large area the rugs cover, they can become wrinkled from constant traffic. Wrinkled or crumpled area rugs may result in trips and falls, making them a dangerous accessory if the problem is not corrected. Smoothing and flattening area rugs for the home is simple once you understand the proper procedure.
Step 1
Brush the pile of the rug with your hand. If the pile stands up, you are rubbing against the pile; if it lies flat, you are rubbing with the pile. Stand at the edge of the rug where the pile runs flat or smooth.
Step 2
Roll the rug from this edge as tightly as possible. Position the rug in the area you want to place it, and slowly begin to unroll. As you unroll the rug, smooth the pile as you go and press the rug against the floor.
Step 3
Place an iron on a wool setting. Iron out any wrinkles on the rug, gliding the iron with the pile of the rug, not against it. Run the iron over each corner of the rug to help flatten the edges. If the corners curl up, place heavy books or objects on them for several days.
Step 4
Cut a strip of rubber backing for rugs, using a pair of scissors. Roll the edge of the rug up and place the backing on it. Lay the rug back down and press the edges into the floor. The rubber backing keeps the edge of the rug from being pushed up and causing a fall.
Tip
Inspect area rugs frequently to ensure they do not have wrinkles or curled edges that can cause someone to trip and fall.