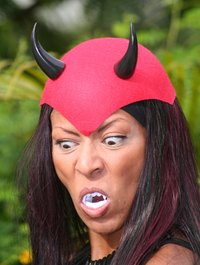 To add an interesting component to your vampire costume or just as a fun accessory to an everyday outfit, wear vampire teeth. Despite the fact that they fit over your teeth, you may still have problems keeping them in place. This can be embarrassing when you are trying to talk like a scary vampire and they won't stay in. Instead of ditching the vampire teeth, you can get them to stay in your mouth with only one item and about five minutes of your time.
Things You'll Need
Denture adhesive
Clean dry rag
Clean the vampire teeth with cool water and dry with a clean, dry rag.
Apply denture adhesive to the vampire teeth. The adhesive should be applied in thin, short strips in the middle of the mouth piece.
Place the vampire teeth in your mouth.
Bite down on the vampire teeth for 2 to 3 seconds. This will ensure that the teeth are securely in place.
Inspect the teeth to make sure no denture adhesive has oozed out. If it has, simply wipe it off with a clean, damp cloth.