Things You'll Need
1/2 cup of bleach

2 tablespoons of low foam dish-washing detergent (non-granular)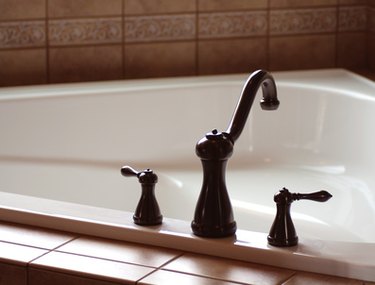 Nothing is more disgusting than turning on your whirlpool and watching gunk spew out from the jets. Maintaining that area is just as important as cleaning the surface. There are many products available at your local hardware store for cleaning the particles out of the whirlpool jets, but you can also make your own, which costs less and works very well.
Step 1
Fill your whirlpool tub with hot water. Make sure the water covers the jets by about 2 inches.
Step 2
Add your bleach and dish-washing detergent. Turn your whirlpool tub on for 10 to 15 minutes and watch as the crud is blown out of the jets. Drain and fill the tub with cool water only. Run the whirlpool for 10 minutes. Drain and dry the tub completely with a towel or soft cloth.
Step 3
Clean the jets in your whirlpool tub once a week. It only takes a week for the particles and gunk to start building up in the dark, wet, moist pipes of all jetted tubs. Weekly cleaning is a must, just like for your toilets and shower.
Tip
Dry the inside of your jets with a soft cloth when you are done cleaning to avoid excess mildew buildup.
Use a small amount of low-foaming bath salts instead of bubble bath for less residue buildup.
Some jets are removable and can be cleaned in your dishwasher. Check your manual.
Wipe down the basin and surface of the tub after every use. This will prevent mildew from building up in the corners and edges of the jet openings. Make sure to use a soft cloth or squeegee to avoid scratching the surface of the whirlpool.
Warning
To keep the pump running smoothly, avoid oil-based bath soaps.
Clean your whirlpool tub with a nonabrasive household cleaner.
Be careful not to start your whirlpool before the water has reached the appropriate level. Running a whirlpool without water can damage the pump seals, which will lead to leaking or failure.