Things You'll Need
60 newborn diapers

Rubber bands (small and large)

8-ounce bottle baby lotion

Cardboard cake board

¼-inch wide ribbon

½-inch wide ribbon

4-ounce baby bottle

Baby items

Stuffed Dalmatian dog

Ribbon

Silk flowers

Confetti

Diaper pins

Firefighter trucks

Firefighter toys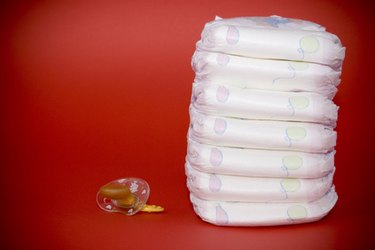 Diaper cakes are not to be eaten but serve as gift-giving devices. Made from rolled-up diapers, diaper cakes serve as centerpieces at baby showers. Diaper cakes typically have a theme that matches either the baby shower or the newborn's room. You can make a firefighter-themed diaper cake by incorporating firefighter elements such as reflective ribbon, Dalmatians and fire trucks into the diaper cake planning and design.
Step 1
Unfold a baby diaper. Roll the diaper up tight from the front to the back. Place a rubber band around the diaper to keep it rolled tight.
Step 2
Roll up five additional diapers. Place an 8-ounce bottle of baby lotion on the center of a cardboard cake board. Stand the diapers vertically around the bottle to create a ring, and place a large rubber band around the diapers to hold them in place.
Step 3
Create another ring around the baby lotion with 12 rolled diapers. Secure the second ring in place with a large rubber band.
Step 4
Form a third ring of 18 diapers around the two rings of diapers that you made around the baby lotion. Tie a ¼-inch thick ribbon into a bow around each diaper instead of using a rubber band. Choose red or black to match the theme of the firefighter diaper cake, or use a reflective ribbon or tape.
Step 5
Place a thick piece of ½-inch wide ribbon around the third tier. Choose a ribbon that matches the color scheme of the cake, or find ribbon printed with fire trucks or Dalmatians.
Step 6
Form two rings of diapers around the top half of the baby lotion to create the second cake tier. The first ring needs five diapers, and the second ring consists of 12 diapers. Use rubber bands to secure the first ring of diapers and tie the second ring with bows.
Step 7
Place a thick piece of ribbon around the second tier. Form the last tier by placing a small 4 oz. baby bottle on top of the second tier, and create a ring of five diapers. Tie these diapers with bows from the thin ribbon, and tie a piece of the large ribbon with a bow to hold them in place.
Step 8
Hide items throughout the diaper cake that the new mom can use such as travel size shampoos, rubber ducks and baby socks hidden between the cake layers, behind the ribbon or wedge them between diapers.
Step 9
Place a stuffed Dalmatian on top of the diaper cake.
Step 10
Decorate the cake red, black and yellow colors to create a firefighter theme. Incorporate these colors with ribbons, silk flowers, paper confetti and diaper pins. Add firefighter trucks and small Dalmatian and firefighter toys to decorate the cake.