Things You'll Need
3 cups flour

1 tsp. salt

Large bowl

Knife

1 1/3 cup butter

Mixer

6 tbsp. ice-cold water

Wax paper

Rolling pin

Mini sausages

Baking sheet

Oven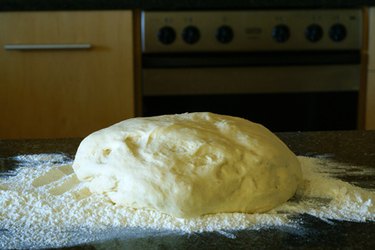 Pigs in a blanket is a popular appetizer for any type of party. You can make them for a child's birthday party, a barbecue or even when friends gather together to watch a football game. Pigs in a blanket consist of tiny sausages wrapped inside a pastry. The sausages are purchased already cooked, but you will need to make your pastry dough from scratch.
Step 1
Place the flour and salt in a large bowl and mix them until they are combined.
Step 2
Cut the butter into small chunks. Add the butter to the flour and salt mixture.
Step 3
Use a mixer to combine the butter with the flour and salt. It will be too hard to do it by hand.
Step 4
Add the water to the bowl while you are still blending the butter. Once all of the ingredients are mixed together, turn off the mixer.
Step 5
Take your pastry dough out of the bowl and set it on a clean countertop. Roll the dough into two or three balls. Wrap those balls in wax paper and then place them in the refrigerator for half an hour.
Step 6
Flour your countertop. Remove the pastry dough from the wax paper. With a rolling pin, roll out the dough balls so that they are 1/8 inch thick.
Step 7
Cut your dough into tiny triangles that are just big enough to wrap the sausages you bought. Because sausages come in different sizes, you will need to experiment with one or two of the sausages to see how big to make your dough triangle.
Step 8
Wrap all of the sausages in the dough triangles and set them on a baking sheet.
Step 9
Preheat the oven to 350 degrees Fahrenheit. Cook your pigs in a blanket for a total of 12 minutes, or until the dough is golden brown.
Tip
You can use plastic wrap in place of the wax paper.