Things You'll Need
Drywall compound

120-grit sanding sponge

150-grit sandpaper

Tack cloth

Solvent-based primer

Synthetic paintbrush

Acrylic latex paint or varnish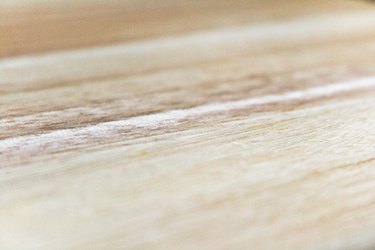 MDF, commonly referred to as particle board, can be a difficult material to work with. Its very nature--compressed wood particles and wax--makes it very susceptible to damage from moisture. But you can easily avoid damage to raw MDF by sealing it, using solvent-based primers found at home improvement stores to seal the material from water damage. After MDF is sealed, it is suitable for a number of uses in your home.
Step 1
Apply a small amount of drywall compound to the index finger. Wipe the compound across the edges of the MDF sheet to prevent moisture from getting into the MDF during the rest of the sealing process. Let the edges dry, and sand them down to an even, smooth surface with a 120-grit sanding sponge.
Step 2
Sand the MDF with a sheet of 150-grit sandpaper. Blow off the sanding dust and wipe away the excess dust with a tack cloth.
Step 3
Apply a single coat of solvent-based primer to the sanded MDF--such as Zinsser Cover Stain Primer Sealer or DuraSyn Primer. Apply the first thin coat with a synthetic brush and let dry for at least two hours. Sand the MDF with 150-grit sandpaper to even out the surface. Apply a second coat of primer and let dry. Sand once more.
Step 4
Apply a single coat of an acrylic latex paint or a polyurethane varnish/clearcoat as a topcoat to further seal the MDF. Use a synthetic brush to apply the coat, and let dry. A second coat may be necessary for full coverage.
Tip
Test all paints on a small area before complete application of the product on the MDF
Warning
Solvent based primers can have very strong fumes. Apply outdoors or in well-ventilated areas. Keep away from children.