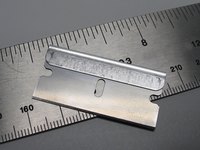 Painting your metal window frames has some associated complications. Unlike wood, metal is not porous, making it a poor candidate for primer and paint adhesion. You will need to coat your window frames with a specific type of primer that will abrade the surface to enhance adhesion capabilities. In addition, because metal is so slick, you may want to use a particular application strategy that will help to promote a smoother-looking finish.
Things You'll Need
Water-based degreaser
Water hose
Rags
Coarse plastic brush
Blue painter's tape
Galvanized metal etching primer
2 to 3-inch latex paintbrush
Acrylic latex paint
Razor blade
Measuring cup
Wooden stir stick
Scrub the window frame clean with a water-based degreasing agent using a coarse plastic brush. Rinse the frame with a water hose or wet rags. Allow the metal frame to dry.
Cover areas running adjacent to the window frame with painter's tape. Cover the window glass adjacent to the frame with painter's tape, as well.
Apply a coat of galvanized metal etching primer to the metallic window frame using a paintbrush specifically manufactured for use with latex paints. Allow the etching primer to dry for one hour, and then remove the tape from the window glass only. Allow the etching primer to cure for an additional three hours.
Wash the brush with water.
Apply a coat of acrylic latex paint using the cleaned paintbrush. Allow the paint to dry for two hours, and then apply an additional coat if you can see the etching primer showing through the finish coat.
Allow the final finish to dry for two hours, and then scrape any paint overlap from the window glass using a razor blade.