Things You'll Need
Coin

Jewelry saw and blade

24-gauge bezel wire

20-gauge sheet metal sheet

Solder

Soldering torch and equipment

Acid pickle and pickle pot

Copper tongs

Baking soda and water

File

Sandpaper (220, 400, 600 and 800 grit, wet/dry)

Buffing wheel and polish (optional)

Burnisher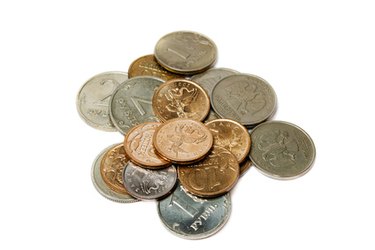 Bezel-set coins make classic jewelry. You can find examples of bezel-set coin jewelry in museums around the world. Bezel setting coins is a great way to protect old, valuable coins. Integrating the bezel set coin into jewelry allows the owner to enjoy the beauty of the coin on a daily basis. Bezel-set coins can be easily converted into charms you can wear as a pendant, paired to make earrings or added as a charm on a bracelet. Some basic metalsmithing knowledge is needed to bezel-set coins.
Bezel set a coin
Step 1
Select the coin you want to bezel set. Gather your jewelry-making tools and materials. You will need 20-gauge sheet metal and 24-gauge bezel wire in a nonferrous metal such as sterling silver, gold, copper or brass.
Step 2
Measure the circumference of the coin. Cut the 24-gauge bezel wire to the size needed to fit around the outside of the coin.
Step 3
Check the fit of the bezel wire. The bezel wire should be snug around the edge of the coin.
Step 4
Solder the bezel wire closed. Use copper tongs to put the bezel wire into an acid pickle bath to remove oxidation. Remove the bezel from the pickle bath with the copper tongs. Rinse the bezel in a mixture of water and baking soda to neutralize the acid.
Step 5
Make the back for the bezel. Check the bezel wire again to be sure it fits around the coin. Solder the bezel wire to a piece of 20-gauge sheet metal that is larger than the coin. Pickle again after soldering to remove oxidation. Rinse again in the baking soda and water solution. Use your jewelry saw to cut away the excess sheet metal on the outside of the bezel. File away tool marks caused when sawing. Use 220-grit wet/dry sand paper to remove excess solder and any tool marks caused when filing.
Step 6
Polish the bezel ring before setting the coin.To polish by hand, continue sanding using 400, 600 and then 800 grit wet/dry sandpaper until the bezel setting has a high polish. You can use a buffing wheel and polish if you do not want to polish the bezel setting by hand.
Step 7
Set the coin in the bezel setting. Place the coin in the finished bezel setting, and use a burnisher (or the smooth back end of a spoon or other tool) to push the bezel wire over the coin. Smooth the bezel wire with the burnisher.
Warning
Take fire safety precautions when using a torch.
Dispose of chemicals properly.
Wear eye protection when using a buffing wheel, flex shaft or rotary tool.