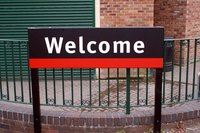 The space in between letters on a sign is an important aspect of the design, which must be properly spaced in order to ensure that the message of the sign is delivered. When spacing letters, the size of the letters as well as the total space allotted on the sign for the letters need to be taken into account. The crowding of letters causes slow reading. If you space your letters properly, your message can be quickly read and your point delivered effectively.
Things You'll Need
Paint, marker or other lettering materials
Blank sign
Acquire a blank sign at any local sign store or make your own. Your own sign could be made by cutting a piece of plywood to the desired size. Lay your blank sign down so that the side where the lettering goes is facing up. Measure the length and width of the sign. Decide how many lines of text you want and can fit on your sign. The fewer lines of text, the easier the spacing of the letters will be. Consider the margin size when fitting the letters for your sign. You should leave a 2-inch minimum margin around the bottom, top and sides of the sign, and can make it larger if it suits your needs.
Decide how tall and how wide you want your letters to be. This should be determined according to the dimensions of the blank sign. For example, if your blank sign is 10 inches by 20 inches, then you know you will have an area of 6 inches by 16 inches to fit your letters following the standard two-inch margin rule around the lettering. The rule of thumb is that the space in between the letters in a word should be half of the letter width and the space in between words should be the width of one letter. If your letters are two inches wide, then the space between letters should be one inch and the space between words should be two inches. A small sign, such as a stop sign, with smaller letters will have less space between letters whereas a large sign, such as a billboard, with large letters will have more space in between letters.
Draw a box on the sign with your pencil and ruler to indicate where the letters will sit. Using the pencil and ruler carefully trace in the letters onto the sign. Be mindful of the space between letters. The space should be measured from the farthest reaching point of the first letter to the closest beginning point of the next letter. Once you have traced all the letters, step back to view the sign. This is the time to make any changes to the size or spacing of the letters before you permanently fill them in.