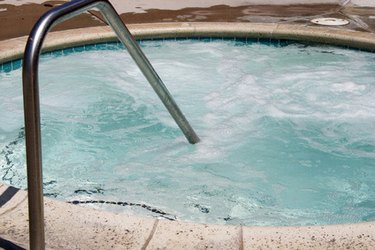 Spa heaters are enjoyable and therapeutic when they are working properly. Having problems with your spa heater not shutting off is costly and risky. It is an indication that the thermostat, thermostat bulb or possibly the contactor is faulty. You should have an owners manual and a basic understanding of the various parts of your spa.
Step 1
Disconnect your spa side control from the spa and attempt to run the spa directly from the thermostat on your control box. If the temperature begins to drop and level out as desired, replace the spa control.
Step 2
Turn the thermostat fully counter-clockwise if the spa control was not the issue. If the heat does begin to level out, check the condition of the copper thermostat bulb inside the well. If the bulb has visible damage you will need to replace the thermostat.
Step 3
Disconnect one of the thermostat wires if the heat did not go down when turning the thermostat fully counter-clockwise. If this causes the heat to stop rising, replace the thermostat. However, if heat continues to rise disconnect the heater contactor coil connections. Faulty internal wiring is the cause of the failure if the heat lowers.
Step 4
Turn off the power to the spa and call a service professional if you can't resolve the issue or if the internal wiring is in question.
Tip
Always refer to your owners manual for specifics on your spa.
Warning
It is unsafe to use your spa when temperatures reach 104 degrees.