Things You'll Need
Stationery

Envelopes

Guest list

Address list

Postage

Ink

Decorations (optional)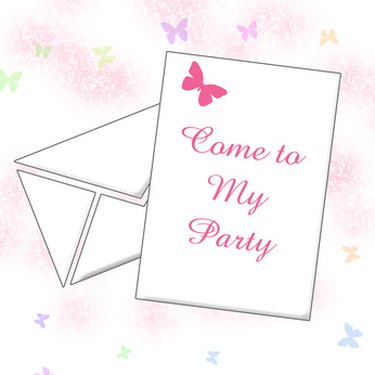 Invitations and programs set the tone for your event, let guests know what to expect and provide a road map to help them follow the different festivities and elements planned. Though they are similar, an invitation primarily conveys to the guests all they need to know leading up to the day, while a program provides a guide for what guests need to know once they are at the event. If you plan to have invitations and programs for your event, using similar color schemes, stationery and decorations on both will help create uniformity for the event and tie everything together.
Invitations
Step 1
Establish a guest list and a corresponding address list for all those invited.
Step 2
Choose stationery that fits the tone of the event. A wedding invitation should have a classic, romantic feel, while a graduation invitation deserves a fun and spirited design. Attaching stickers or decals to the invitations adds a warm and homemade touch.
Step 3
Add a quote, friendly greeting or formal greeting, depending on the event. A wedding may have a formal greeting such as "Mr. and Mrs. Smith request the honor of your presence at the wedding ceremony of their daughter, Jessica Smith, to Thomas Jones." A graduation ceremony, in contrast, may have a light-hearted feel to it, such as simply, "He did it!"
Step 4
Relay pertinent information such as the date, place, time and registry information (if applicable). Also include clear RSVP instructions.
Program
Step 1
Again, choose stationery that matches the tone of the event.
Step 2
Give the program a title, such as "Tom and Jessica's Wedding." Add a quote. For a wedding this would be a romantic quote about love. For a graduation the quote could pertain to success and a journey.
Step 3
Record in chronological order all the important steps or portions of the ceremony with a brief explanation, roughly one sentence. Include the names of people who will participate, such as those offering readings or toasts.
Step 4
Close the program with a note of thanks, either to guests for attending or to parents for organizing the event, or a message in memory of someone who could not be there, such as a deceased relative.