Things You'll Need
Measuring tape

Large screws with wall plugs

Level

Drill

Hammer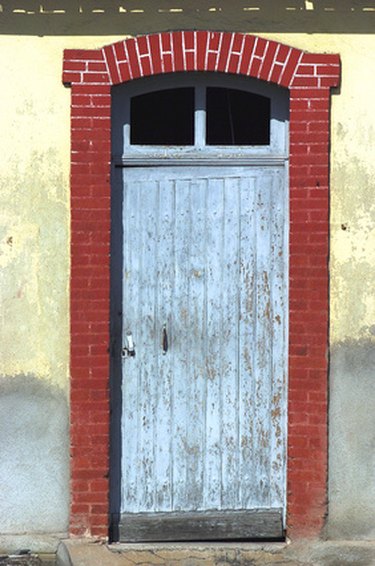 Any type of door frame, from entrance door frames to interior door frames, can loosen over time. If you find that your door frame moves when you open or close it, repair it by inserting stabilizing screws. Door frames that are not sturdy can be dangerous because eventually they will just fall out of the wall if not repaired.
Step 1
Measure the thickness of your door frame. Buy screws with wall plugs that are at least 60 mm more than the depth of the door frame.
Step 2
Open your door and press the door frame firmly to the wall. Make sure that the frame is level with the door and the ground.
Step 3
Drill 3 holes on one of the door jambs of the door frame. The holes should run down the door jamb and go through the frame and the supporting wall. Make sure that when you drill holes, the drill bit you'll use is smaller than the screws that you will use to attach the door. Drill another 3 holes on the other door jamb. The holes that you drilled on the door jambs should be evenly spaced.
Step 4
Screw in the screws and the plugs on the holes that you drilled. Make sure that each screw is tightly secured on the door jamb.
Step 5
Close and open your door to check if the door frame is still loose.
Warning
The frequent slamming of doors can loosen the door frame.