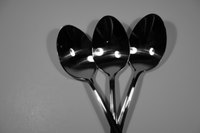 Stainless steel silverware can become tarnished and stained in spite of its name. Often cleaned in the dishwasher, stainless steel silverware can develop rust stains and water spots that are difficult to wipe off without any cleaner. Homemade cleaners work to remedy this situation, with products you probably already have at home. Use them to spruce up your stainless steel silverware.
Things You'll Need
1 tsp. hydrogen peroxide
3 tbsp. cream of tartar
Small bowls
Hydrogen Peroxide and Cream of Tartar
Mix the hydrogen peroxide and cream of tartar together in a small bowl to form a paste.
Rub the paste on stainless steel silverware with a soft cloth to polish and remove spots. Leave the paste on the silverware and let dry completely.
Rinse off the paste with water and dry thoroughly with a clean cloth.
Vinegar
Pour some vinegar in a small bowl.
Dip a clean cloth in the vinegar to get the cloth wet, but not soaking.
Wipe the silverware with the vinegar to remove water spots or rust. Rinse off the vinegar with water; dry completely with a clean cloth.