Things You'll Need
3 to 4 rib prime roast

Cutting board

Serrated knife

Large cooking pan

Salt and pepper

Cooking thermometer
Slow cooking a prime rib roast is a simple way to cook an impressive piece of meat. Slow cooking also brings out the roast's natural juices and flavor. The best way to cook a prime rib roast is in an oven rather than a slow cooker. Oven baking requires completing a few preparatory steps and being available to lower the oven temperature partway through the process.
Step 1
Preheat your oven to 450 degrees.
Step 2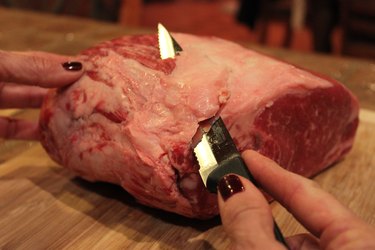 Set your prime rib roast on a cutting board with the fat side up. Trim the fat away from the prime rib roast with a serrated knife until it is about 1/4 inch thick.
Step 3
Place your roast in a large baking pan, fat side up.
Step 4
Rub the fleshy part of your prime rib roast generously with salt and pepper.
Step 5
Put your prime rib in your 450-degree oven for 15 minutes to sear the outside and seal in the juices.
Step 6
Turn the oven temperature down to 325 degrees, and bake your prime rib roast about 11 minutes per pound.
Step 7
Remove your prime rib roast from the oven, and check its internal temperature with a cooking thermometer. Rare is approximately 120 degrees. Medium well is about 140 degrees.
Step 8
Cover your prime rib roast with aluminum foil after baking, and let it sit for 15 to 20 minutes. This will let the juices redistribute and keep your roast from being too dry.
Tip
Dry marinades can also be used to flavor your prime rib. Save the pan drippings to make an au jus sauce. One rib serves one to two people.