Things You'll Need
Paper cup

Scissors

Pink acrylic paint

Paintbrush

Elastic

Stapler

Staples

Pink felt

White craft glue

Pink pipe cleaners

Safety pin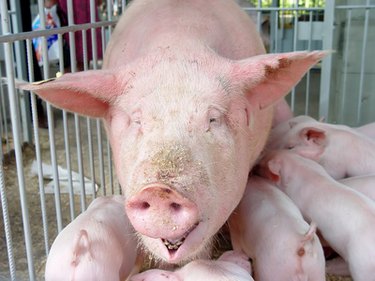 Homemade costumes allow you to put your own creative spin on a costume rather than just settling for a ready-made store bought version. Pig costumes are not difficult to make and rely heavily on a proper looking pig nose, ears and tail. While you can pick up a pig accessory kit at many costume stores, you will probably save money by making your own.
Step 1
Cut the top away from a paper drinking cup so that the bottom and approximately two to three inches of the sides remain. This shortened drinking cup will become your pig nose.
Step 2
Paint the cup pink using acrylic paint and allow it to dry.
Step 3
Draw two circles on the bottom of the painted cup with a black marker to create the pig's nostrils.
Step 4
Cut a length of elastic and staple each end of the elastic to the top of the cup so you can wear your pig nose.
Step 5
Cut two large triangles from a piece of pink felt. These triangles will become the ears of your pig costume so cut them to the size you want your pig ears.
Step 6
Cut two smaller triangles from a piece of darker pink felt and glue the smaller triangles to the center of the large triangles with white craft glue.
Step 7
Sew or staple the pig ears to a baseball cap. If you use staples, they can be easily removed and will only leave a few tiny holes so you can still wear the baseball cap.
Step 8
Twist together four to six 12-inch long pink pipe cleaners to create one thick pipe cleaner. Wind this giant pipe cleaner around two of your fingers to create a spiral pig tail.
Step 9
Put a dot of white craft glue at each end of the pig tail to hold the pipe cleaners together.
Step 10
Connect the spiral pig tail to the back of your pants with a safety pin.
Tip
You may be able to find a plastic pig nose at Halloween costume stores or a dollar store.
Giant pipe cleaners can occasionally be found at craft stores and you can use a giant pink pipe cleaner in place of the four to six regular sized pipe cleaners for this pig costume.
Wear pink sweats to complete your pig costume or add the baseball cap with ears, pig tail and pig nose to your regular clothes to dress as a modern and fashionable pig.