Things You'll Need
Masking tape

Primer

Paint rollers

Drywall compound

Drill

Mixing paddle

Tinting pigments

Trowels

Drywall knives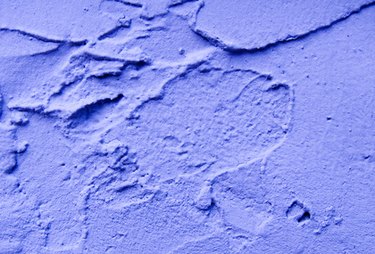 New paint can freshen up a room, but sometimes you may like to go further and add a textured dimension to the walls. Knockdown finish on walls takes a little practice, but the finished appearance is well worth the effort. A knockdown finishing technique is also referred to as skip-trowel finishing. Stucco finishes help to deaden sound, hide imperfections in the drywall and provide a rustic feel to a room. Picture a Spanish-style hacienda with its textured walls and soft colors and then create your own.
Step 1
Cover floors with drop cloths and mask off woodwork and trim.
Step 2
Roll two coats of primer-sealer onto the wall. Tint the primer if you are planning to add color to the texture. Allow the primer to dry between coats.
Step 3
Mix the drywall compound thoroughly, adding water a little at a time to get a workable consistency. Mix in tinting pigment if desired. The drywall compound should be the consistency of thick cake icing. A mixing paddle attached to a drill ensures thorough mixing and workable consistency.
Step 4
Experiment on a scrap piece of drywall to determine the preferred thickness of the compound and practice your finishing technique. Apply a coat of the drywall compound to a depth of approximately 1/8 inch. Trowel the drywall compound onto the wall or roll on with a long-napped paint roller. Allow the compound to set on the wall for 10 to 15 minutes or until it feels tacky to the touch. Work in manageable sections of approximately 10 square feet
Step 5
Use a wide metal drywall knife (10 to 12 inches wide) to form the pattern on the texture. Hold the drywall knife at an angle to the wall. Use a twisting and dragging motion to form swirls in the texture, similar to icing a cake. Lift the drywall knife off the wall and then begin the next set of swirls, slightly overlapping the strokes. The swirls will not be uniform; the variation in size and shape creates the beauty of this finish.
Step 6
Paint the knockdown finished walls if desired after the walls have thoroughly dried or leave the finish as it is. You can easily remove this finish, if left unpainted, by wetting and scraping off the walls if you wish to return to a flat wall surface.
Warning
Painted knockdown texture can be difficult to remove.