Things You'll Need
Computer

Design Studio Software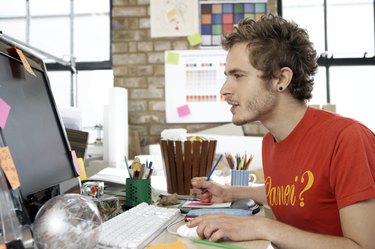 The Cricut Design Studio software allows you to connect letters and graphics to create your own designs when used with a Cricut Expression machine. You can use it to connect letters for titles on a page and perform a variety of other projects.
Step 1
Open the software on your computer and select the cartridge you would like to connect letters with on the Design Studio software. You have to own the cartridge to be able to cut from it, even though the software will show you all cartridges. Using the cartridge of your choice, select the letters you would like to connect so that they show up on the screen.
Step 2
Select each letter individually and move them to the previous letter so that they bump up against each other. You can decide where you would like them to connect, but you want to make sure that they bump together so that they will cut as one word. Once you have connected the letters, select the "Weld" button on the top right corner of the Design Studio software. This will make all of the letters one image.
Step 3
Push the cut button on the Design Studio software. Once you have connected your word together, you can now cut the image on your Cricut Expressions. Make sure that you have your paper ready, and it will prompt you when it is time to load the paper and cartridge.
Tip
You can cut letters and images from different cartridges in one cut to save you time and money.