Things You'll Need
Cloth towel or rag

Non-gel toothpaste

Baking soda

Lemon juice

Wood cleaner

Linseed oil

Rotten-stone

Bleach

White vinegar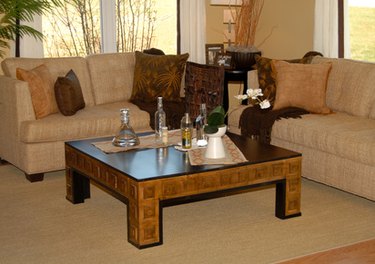 Over time, liquid/beverage, heat and cigarettes, oil and dirt can produce unappealing stains on coffee tables and other home furnishings. While most wood cleaners can easily lift some stains, they can only go so far. With a few simple household items and products, you can remove stains from a coffee table, refurbishing your furnishing back to new.
Step 1
Remove stains from a wood coffee table with toothpaste, baking soda and water. Add about 1 tsp. of baking powder and toothpaste to the stain. Use a cloth rag to rub both toothpaste and baking soda on the stain in a circular fashion. Wipe off the toothpaste from the coffee table with a second damp rag. Allow the table to air dry.
Step 2
Use lemon juice to remove heat marks from a wood coffee table. First rub the affected areas clean with a wood cleaner to loosen up dirt and grime on the surface. Wipe dry with a cloth towel. Apply at least 1 to 2 tbsp. of lemon juice to all affected areas, rubbing with a cloth in a circular motion until stains began to lift. Create a linseed oil and rotten-stone paste to remove cigarette stains from the coffee table. Use a cloth rag to scrub the area until the burn stain disappears. Wipe clean with a dry cloth.
Step 3
Apply ammonia on liquid and beverage stains; clean liquid stains as soon as possible to avoid permanent damage. Most liquids contain acids and other ingredients that can mar coffee tables, making the stains difficult to remove. Using a damp cloth, rub 1 tsp. of ammonia onto the stain. Allow the ammonia to sit for 5 to 10 minutes. Wipe clean with a dry cloth, and polish the coffee table with a wood finish.
Step 4
Use full-strength bleach to remove heavy duty staining on the coffee table. Apply tape to the coffee table on areas of the table that don't have any stains so you won't damage unmarred areas with bleach. Conduct a test on the affected area by pouring a small amount of bleach onto the stain, allowing the bleach to settle for 15 minutes. If the stain does not lift, consider contacting a professional wood restoration company for professional cleaning service and tips. If the stain does disappear, pour bleach onto the affected areas, and allow it to dry on the stain. Once the bleach has completely dried, rinse the coffee table with water and white vinegar.