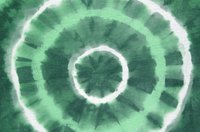 The tie dyed look is a popular style, but it's always been difficult to create, requiring several hours and creating a big mess. New products make it much easier to tie dye your clothes. In fact, you can have a great looking new item in around an hour. You also no longer have to do the tying part of tie dying, a process that involves using rubber bands or string to create white spaces in the shirt.
Things You'll Need
Clothing to dye
Spray dye for fabric
Protect your working area. Whether you're working on a table or a floor, you should protect the area to avoid staining it with dye. For example, you could cover it with plastic bags or newspapers.
Scrunch up your fabric. You can choose from a number of tie dying styles. To create a spiral, pinch the fabric in the middle and twirl it around. You can also simply bunch the fabric up for an all-over tie dye effect. At this point you can use rubber bands to secure the fabric, but it's not necessary.
Spray the fabric with one dye color. The areas that are most exposed will receive the most dye.
Open the fabric, and spread it out to see the work that you've created so far. Then, re-scrunch it in the design you've chosen. Doing this a second time will expose new areas for dye.
Spray the fabric with a second color.
Repeat the scrunching and spraying steps until your shirt looks the way you want it to look.
Allow the dye to dry. This should take about an hour, depending on how much dye you used.