Things You'll Need
Natural raw, cosmetic-grade butter (2 tbsp.)

Carrier oil (1 tbsp.)

Emulsifying wax beads (2 tbsp.)

Floral water (1/2 cup)

Essential oil

Stearic acid (4 tbsp.)

Titanium dioxide (1 tsp.)

Glass bowl

Plastic spoon

Small bottle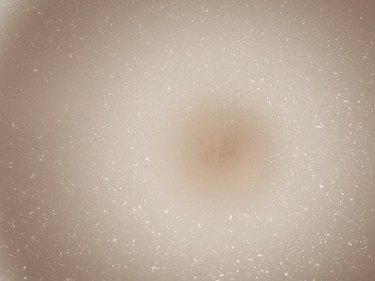 Foaming lotion, whether a moisturizing or other beneficial formula, is easily made at home with the right ingredients. Creating a luxurious and velvety wrapping foam allows you to experiment with a wide variety of additives, oils and extracts to create a one-of-a-kind product. Use botanical products as an eco-friendly way to experiment.
Step 1
Choose your ingredients depending on the type of effect you want the lotion to have. For example, natural hemp seed butter contains amino acids that help repair dry skin, whereas cocoa butter, a more common ingredient in lotions, possesses softening properties. Carrier oils come in a wide variety of forms, from olive oil to rose-hip oil. Choose a light carrier oil for a foaming lotion, such as grape-seed oil. Soy wax beans provide excellent emollient properties for combining water and oil in cosmetic recipes.
Step 2
Combine the butter, carrier oil and emulsifying wax beads in the glass bowl. Microwave the bowl on high for approximately a minute and a half, or until the contents are melted.
Step 3
Add the floral water (such as rose hydrosol), stearic acid and titanium dioxide powder to the bowl of melted wax and oil. Thoroughly mix with the plastic spoon until a thick, white lather forms.
Step 4
Add approximately four drops of essential oil to the bowl of foam. Choose an essential oil that has a pleasing scent with cooling capabilities, such as lavender, tea tree oil or geranium. Mix the oil into the whipped foam thoroughly, stirring for another two to three minutes.
Step 5
Spoon the warm, foamy mixture into a plastic bottle that has a lotion applicator tip. Pushing on the dispenser, once the lotion sets, will aerate the contents to produce a foamy wrap lotion.