Things You'll Need
Cricut Expression

Paper

Cricut cutting mat

Sure Cuts A Lot Software (SCAL) - Craft Edge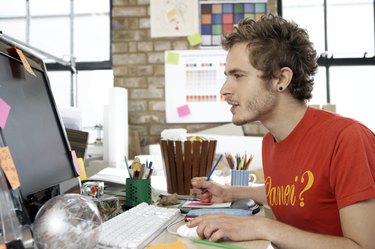 The Cricut Expression die cutting machine is one of the most sophisticated machines for die cutting shapes, characters, symbols, or even pictures. Provo Craft manufactures the Cricut Expression machine. Before you can use the Cricut Expression machine you must load a Cricut design cartridge. Design cartridges are sold by Provo in a variety of themes. To avoid the cost of purchasing several different cartridges, Sure Cuts A Lot software offers you the option of using your computer to download and use multiple fonts on your die cutting machine.
Step 1
To be able to use your Cricut Expression machine with computer fonts you need to purchase the Sure Cuts A Lot software. This software is sold by the Craft Edge company. Visit the Craft Edge website to purchase the Sure Cuts A Lot (SCAL) software.
Step 2
After you have purchased the SCAL software you will be able to download the software to your computer. Once the download process completes you are ready to install the software.
Step 3
Install your SCAL software using the download you completed. Walk through the installation process. When the process completes you will receive a message about installation completing successfully. If you have any installation problems try reinstalling the software, rebooting your computer, or contacting Craft Edge for support assistance.
Step 4
To use your Cricut Expression machine with SCAL software, make sure you have your Cricut machine plugged into your computer using a USB connection cable. Using the SCAL software test the connection between your machine and the software by cutting a few characters as a test.
Step 5
Now is the fun part. Download fonts to use with your Cricut Expression machine. To use the fonts with your SCAL software make sure the fonts are in a True Type Font (TTF) format. Download any fonts that are TTF format to your computer to use them with your SCAL software. The Craft Edge website lists specific directions on where to download fonts, and then how to install these fonts on your computer for use with the SCAL software. Fonts do not have to be made up of just letters or numbers, they can contain graphics or symbols as long as the font is a (TTF) it is usable through SCAL software. Purchasing this software makes up for itself over and over again by simply avoiding buying several different Cricut cartridges.
Tip
Download fonts that are both graphical only and text only to have versatility in using the SCAL software. Craft Edge offers a free trial of the software before you buy. Try using the software before you decide to buy it for full price.
Warning
Make sure you feel comfortable using a computer with your Cricut machine before you consider buying the SCAL software.