Things You'll Need
Worsted weight 4-ply yarn

KK red round loom

Loom knitting hook

Tapestry needle

Small dinner plate

Tea towel

Iron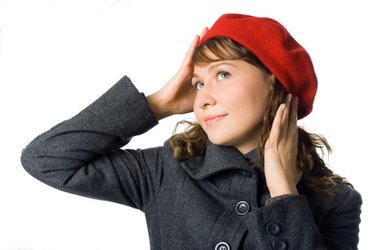 With knitting on a loom gaining popularity, you might be curious to try it out. Hats are great first projects for beginners, and they are also a fun project to do again and again. Try out this cute beret so your venture into loom knitting ends with a stylish garment.
Step 1
Tie a slip knot in your yarn. Leave a 3-inch tail. Tighten the slip knot around the peg with the marked tip of the round loom.
Step 2
Wrap the pegs working clockwise around the loom. Wrap each peg counterclockwise until you return to the first peg.
Step 3
Work one more round, wrapping each peg.
Step 4
Use your hook to lift the first wrap on the first peg over the yarn of the second wrap and off the peg. This is one stitch. Repeat this for all pegs, working in a clockwise direction.
Step 5
Wrap the pegs again. Knit the row closest to the ring of the loom. Repeat this until you have knitted enough to cover your head, about 9 inches or more. After you reach the desired length, do not wrap another row.
Step 6
Cut your yarn, leaving a 15-inch tail. Thread the tail through your tapestry needle. Insert the needle under the first stitch. Lift the stitch off the peg and pull the yarn tight. Repeat for all stitches. Cinch the top tight and tie a knot. Use your needle to weave in the tails.
Step 7
Shape your beret by blocking. Stretch it over the dinner plate so the brim of the hat tucks under one side. Place a dampened, but not wet, tea towel over the side of the plate with the top of the hat. Iron over the damp cloth. Flip the plate and cover the other side with the towel. Iron the underside.