Things You'll Need
Melt-and-pour soap base

Knife

Stove

Cooking pot

Water

Heat-proof mixing bowl

Spoon

2 sheets crumbled nori (seaweed)

Soap molds

Airtight container or paper to wrap soap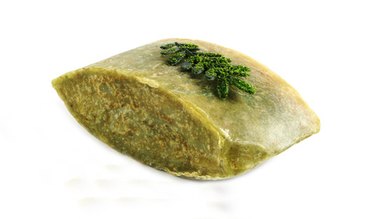 Made with natural ingredients, seaweed soap has moisturizing and exfoliating properties. The easiest way to make your own is by using the melt-and-pour method. Use the finished product yourself, or wrap it up and give some as a gift.
Step 1
Cut your soap base into blocks. Soap base is a pre-made soap ready for additives such as fragrance, color or herbs. The base may already be perforated to show you where and how to cut your blocks.
Step 2
Fashion a double boiler by adding water to a cooking pot and bringing it to a boil. Place a heat-safe mixing bowl over the boiling water. This is a gentle way to melt your soap base without drying it out or burning it.
Step 3
Add the soap base blocks to the mixing bowl portion of your double boiler, stirring often until the base is melted.
Step 4
Mix two sheets of crumbled nori (the seaweed used to make sushi) into the soap base. The nori is dry and very easy to crumble using only your hands.
Step 5
Remove the soap from the stove, allowing it to cool slightly ( two to three minutes).
Step 6
Carefully pour the soap into soap molds and allow it to harden. The soap should harden in about two hours.
Step 7
Remove the soap from the mold, and store in a cool, dry, airtight container (sandwich bag or wrapped in paper).
Tip
Soap base made with seaweed extracts is available for purchase in soap-making supply shops or online. This adds extra seaweed to your soap.
You can add essential oils after removed the soap from heat for fragrance and skin-enhancing benefits. Try mixing in a drop or two of eucalyptus oil or tea tree oil.