Jolly Ranchers, translucent hard candies, can be molded into roses that look more like blown glass than inexpensive candies. You need between six and nine "petals" and two "leaves" for each rose.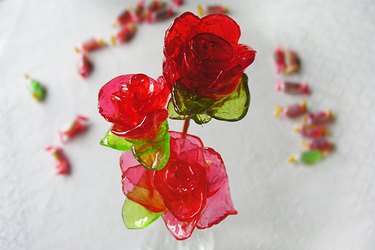 Things You'll Need
Bamboo skewers, one per rose

Kitchen scissors

Glass bowl

Jolly Rancher candies

Food safe rubber gloves
Step 1: Trim the Skewers
Snip the pointed end off one bamboo skewer for each rose you want to make.
Step 2: Warm the Candies
Put about a cup of water into a small glass bowl and add a handful of candies (still in their wrappers) to the bowl. Microwave for 30 seconds to 1 minute or so, depending on the microwave. The water should be uncomfortable to touch but not hot enough to burn your fingers.
Step 3: Mold the First Petal
Wearing food-safe rubber gloves, take one candy from the hot water. Knead the wrapped candy between your thumbs and fingers, flattening and molding it into a rough oval.
Unwrap the candy and refine the shape into a petal. Roll the candy around the end of the skewer, molding it to look like the center of a rose.
Tip
Work quickly before the candy re-hardens. If necessary, return the candy to the bowl of warm water until it's pliable again.
Step 4: Add Petals As Desired
Continue shaping and adding petals, working in a circle around the skewer, offsetting each candy and curving the petals to create the shape of a rose.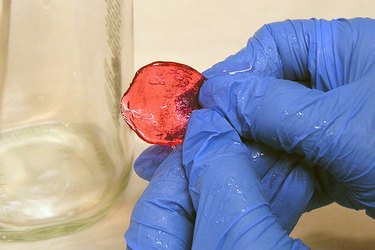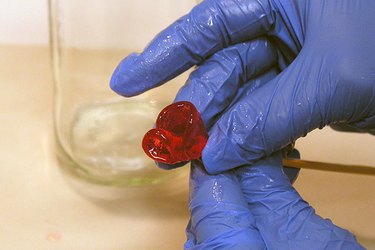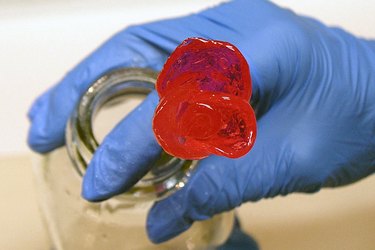 Tip
Use a milk bottle or tall drinking glass to hold the rose as you shape additional petals.
Step 5: Form the Leaves
Put fresh water in the bowl and warm two green candies as described in Step 2. Knead one wrapped candy between your fingers until it forms a relatively flat oval.
Unwrap the candy and refine it into a leaf shape, somewhat pointed on the end with slightly curved edges. When you're satisfied with the shape, mold the leaf around the rose petals.
Shape the other wrapped green candy into a rough oval. Unwrap the candy and refine the shape a bit. Poke the end of the skewer through the flattened candy and slide the candy up to the bottom of the rose. Mold the candy to form the base of the rose.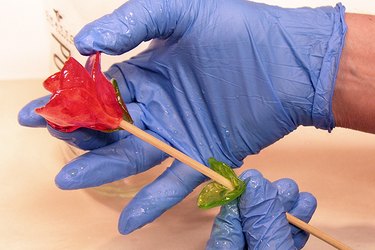 Make a bouquet or keep it simple with a single bud. Doesn't this make a beautifully "sweet" rose?