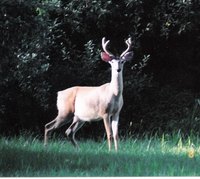 Pan-frying venison is a popular way to use loin steaks, especially in the South, where lightly coated steaks are often fried up like chicken and served with country gravy.
Before frying venison steaks, you may wish to allow time for the meat to soak in buttermilk. This traditional step helps cut the "gamey" taste of venison; however, fresh deer meat that has been properly handled should not have a strong wild game taste even without a soak, so this step isn't necessarily required. Regardless, the buttermilk, like any marinade, adds tenderness to the meat, as well as an old-fashioned authenticity.
Although venison is a common game meat, it is also farmed and sold commercially. It generally has less fat and more vitamin B-12 than beef or pork, making it a healthy protein choice.
Things You'll Need
4 venison loin steaks
1 cup buttermilk
3/4 cup flour, seasoned with salt and pepper
Vegetable oil for frying
Bread slice
Large frying pan
Pound each steak flat with a mallet or the back of a fry pan.
Place steaks in a shallow container and cover with buttermilk. Cover, and refrigerate for at least 90 minutes, or up to 12 hours.
Remove the steaks, and allow the excess buttermilk to drip off. Dredge in seasoned flour.
Heat 1/4 inch of vegetable oil in frying pan until a pinch of bread sizzles when it hits the oil. Add steaks and cook for about two to three minutes per side, turning once.
Drain the venison steaks on a paper towel-lined plate before serving.