Things You'll Need
10-grit sanding sponge

280-grit sanding sponge

Vacuum

Tack cloth

2 natural-bristle brushes

Painter's rag

Wood stain

Sanding sealer

Wood varnish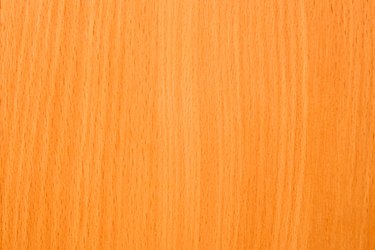 Engineered wood is a restructured composite of wood that has been enhanced for better stability. It is made up of compressed hardwood that can be sanded and renovated just like natural wood. Engineered wood is a common choice for flooring material due to its durable structure and wide variety of textures, colors and cuts. Because it is a surface that is constantly walked upon, engineered wood flooring requires the proper insulation to seal and protect its condition.
Step 1
Sand the floorboards with a 10-grit sanding sponge until they become uniformly dull. This prepares the surface for staining while eliminating dirt, blemishes and other surface imperfections.
Step 2
Vacuum the dust and grit that was left after sanding. Wipe the floorboards with a tack cloth for thorough dust removal.
Step 3
Stir a can of wood stain with a natural bristle brush until all of the contents at the bottom have been thoroughly mixed. Saturate the wood in the direction of the grain to enhance and even out its color, then use a rag to quickly wipe away the excess product before it dries.
Step 4
Let the stain dry overnight, then brush a single coat of sanding sealer over the stain. Use long strokes, following the grain of the wood. Once the coat is dry to the touch, smooth it thoroughly with a 280-grit sanding sponge.
Step 5
Seal and protect the floor's restored finish with a polyurethane wood varnish. Apply the product with a painter's rag or foam applicator brush. Allow it to cure overnight, then sand the coat with the 280-grit sponge.
Step 6
Repeat the same procedure for at least one to two more coats of varnish to effectively seal the moisture in the wood. Leave the top coat unsanded.