Things You'll Need
Pressure washer

Blue painter's tape

Heavy-duty fabric drop-cloths

80-grit sandpaper

Spray cans of Rust-oleum Zerolac

5-gallon bucket

Nap roller cover

Roller frame

3- to 4-inch paintbrush

Latex paint

Extension ladder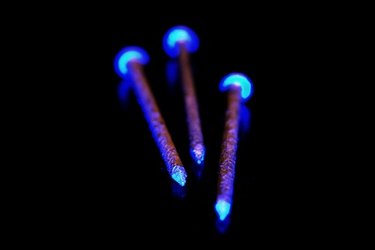 Unless nails are galvanized, they will rust over time. Unfortunately, many amateur do-it-yourselfers underestimate the power of rust, and attempt to seal nails either with paint or a basic bonding primer. This will always result in the classic yellow tinge of bleed-through associated with rust stains. If you need to paint the exterior of a home that has rusty nails, you'll have to use a specific primer to seal the rust to prevent bleed-through.
Step 1
Rinse away cob webs, dust and dirt using a pressure washer. Allow the surface to dry completely.
Step 2
Apply blue painter's tape to areas you do not want painted. Cover larger areas like porches and sidewalks using heavy-duty fabric drop-cloths.
Step 3
Sand away loose rust using 80-grit sandpaper.
Step 4
Spray the rusty nails with Rust-oleum Zerolac, effectively sealing them to prevent bleed-through in the final finish. Allow the surface to dry for two hours.
Step 5
Fill the 5-gallon bucket half-way with exterior acrylic latex paint. Affix the nap cover to the roller frame.
Step 6
Apply paint to the exterior of the home using the roller. Apply paint to any tight or detailed areas inaccessible to the roller using a 3- to 4-inch paintbrush.
Tip
If you need to use an extension ladder to reach high areas, be sure to follow the directions printed on the side of the ladder to avoid injuries due to falls.
Rust-oleum Zerolac is ideal for sealing rust and blocking it to prevent bleed-through. If you choose a different brand, be sure it is specially formulated to seal and block rust or you will see bleed-through.
Warning
Never attempt to seal rusty nails by coating them with an ordinary bonding primer or you will see bleed-through.