Things You'll Need
Worth Instant Pendant light/Recessed Light Conversion Kit

Flat head screw driver

30' metal tape measure

Light bulb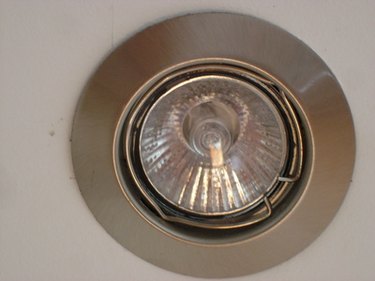 One thing people are doing to update the look of their homes is replacing eyeball, or recessed lighting with more contemporary pendant lamps. Pendant lamps are especially popular over kitchen islands and breakfast bars. An electrician can do this for you, but it is expensive. You can achieve the same look by doing it yourself, and save several hundred dollars in the process. Worth Home Products makes a screw in pendant light kit that converts an eyeball light into a pendant light just by screwing the new light into the existing light socket.
Step 1
Purchase a Worth Instant Pendant light/Recessed Light Conversion Kit. These are available online through Amazon.com. Similar products are available at Home Depot.
Step 2
Shut off the electricity to the room you are working in. You will need to go to your home's circuit breaker box and flip the breaker switch to the room.
Step 3
Pry off the metal "eyelid" of the eyeball light with a flat head screw driver. Unscrew the bulb.
Step 4
Measure the distance between your ceiling and where you want your pendant shade to hang. Adjust the cord length on your new recessed lamp accordingly. Simply unwind or wind the cord around the "handle" near the top of the lamp.
Step 5
Screw the pendant lamp into the light socket of the eyeball light up in your ceiling. The cord handle will be hidden inside the recessed light canister when the canopy is fitted over the hole.
Step 6
Slide the metal canopy up until it is flush with the ceiling. Screw it in place with the small metal piece just under the canopy. This will hide the hole and canister for the recessed light. The canopy may not lie flush against the ceiling at first, but once the tension is set on the pendant lamp, the canopy can be adjusted slightly and it will lie flush.
Step 7
Put the shade on the other end of the light cord. Look at the interior of the lamp shade. Place the two rings around the light socket. Place the washer on first, and then screw on the other ring. Add a new light bulb. Repeat the above steps with the rest of the lamps you are changing.
Step 8
Turn the electricity back on. Turn on the lights, and enjoy your new look.