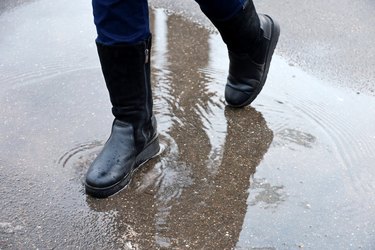 Leather boots are a worthy wardrobe investment that should last a lifetime, but the pleasure of wearing even the best-looking leather boots dissipates if and when they develop a musty smell. Boots and shoes can smell like mildew if they get damp and don't dry out properly, perhaps due to improper storage. Musty smells can also be the result of normal foot sweat and bacteria building up over time.
Whatever the cause, a range of different household products can be effective for boot and shoe odor removal. Finding the best boot odor eliminator is usually a matter of trial and error, so try a variety of methods until you find one that works.
Air Out Boots and Shoes for Odor Removal
The best boot odor eliminator might also be the most straightforward – expose them to plenty of fresh air. Dampness is a major cause of boot odor, and it's a likely reason your boots or shoes smell like mildew. Leather needs to breathe, so putting damp leather boots in a closed container is a sure way to cause a musty smell.
Even if the smelly leather boots feel dry, tackle the smell by placing the boots outside in the fresh air for several days. Keep them out of direct sunlight and sheltered from potential rain. If you live in a very humid climate, dry the boots inside instead, in a well-ventilated area away from any heat sources. You could also try drying them with a hair dryer on a cold setting. These steps should greatly improve boots and shoes that smell like mildew.
Baking Soda – The Best Boot Odor Eliminator
Baking soda is probably the number one household product for odor-eating, and fortunately it's safe to use on leather boots. It's very inexpensive too, making it an excellent choice for boot and shoe odor removal. You can repeat the baking soda treatment multiple times if needed, but with regular use consider applying a leather conditioner, as baking soda can dry out the leather.
Liberally sprinkle baking soda, or a mixture of baking soda and cornstarch, inside the leather boots. If you believe the source of the musty smell is the insoles, concentrate the baking soda inside the boots, shaking it around to evenly coat the insoles. If the smell permeates throughout the boots, purchase several boxes of baking soda, place the boots on their sides inside a box, and apply baking soda all over the boots, inside and out. Leave the boots undisturbed for at least 24 hours, then shake and brush away the baking soda.
Clean Leather Boots With White Vinegar
White vinegar is acidic and kills some of the bacteria that cause smells in leather boots. Cleaning leather boots inside and out with a 50-50 solution of white vinegar and water can help eliminate musty smells. Put the solution in a spray bottle and lightly spritz – never soak – the leather boots. Wipe the vinegar solution away with a soft cloth, such as a microfiber cloth. Follow up by applying a commercial leather conditioner, according to the manufacturer's instructions.
Try a Commercial Leather Cleaner
For smells that permeate the leather uppers of the boots, rather than just the insoles, try a thorough cleaning with a commercial leather cleaner. Choose a leather cleaner that also conditions the leather, or use a leather conditioner after cleaning. Follow the manufacturer's instructions for these products, which will typically tell you to massage a small amount of the product into the leather with a soft cloth.
An unexpected but often effective method of boot and shoe odor removal is to freeze the footwear! Place the boots inside a sealed plastic bag and place them in the freezer overnight. The freezing temperature can kill some of the bacteria that cause odors.
If the insoles of your leather boots stink, it's probably worth throwing them away and replacing them with new ones. This approach is likely to be an excellent boot odor eliminator, as insoles absorb foot sweat more than the upper parts of boots and are a major source of smells.
Buy an Antibacterial Spray
Look for commercial antibacterial sprays formulated for leather boots and shoes. Follow the instructions, which will typically involve spraying inside the boots and waiting for the product to dry.