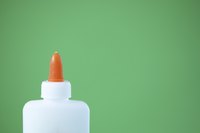 Elmer's Glue, an all-purpose white adhesive made from synthetic chemicals, bonds materials ranging from paper and Styrofoam to porcelain and wood. Non-toxic, it cleans up with soap and water. As an adhesive for making a variety of craft projects, Elmer's Glue is too thick to use as it comes out of the bottle. Once you thin it to the right consistency, however, it makes an excellent paste for projects like papier mache.
Things You'll Need
Elmer's Glue-All white adhesive
Plastic or glass container
Pour the amount of Elmer's Glue you want to thin into a container.
Add a small amount of water. To make paste for papier mache, for example, mix together two parts Elmer's Glue and one part water. Stir the glue and the water together.
Check the consistency of the glue. Take out a spoonful of it. Check its thickness visually as you slowly pour it back into the container.
Add more water, if needed, to thin Elmer's Glue to the consistency you desire. If you accidentally thin the glue out too much, just stir in more of it to thicken your paste back up.