Things You'll Need
Soft, damp cloth

Lint-free towel

Metal polish

3 soft, dry cloths

Window cleaner

Nail polish

Nail polish remover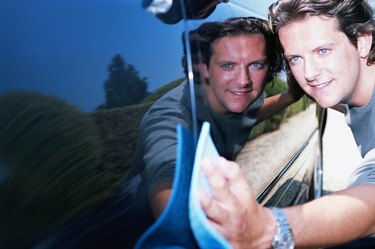 Automobile glass windows can take a beating, especially when the car is out in the elements. Between weather conditions, birds, squirrels and other creatures, as well as tree twigs and branches falling on your car, the windows can easily become scratched. You can remove scratches from auto glass windows by buffing polish on them. It's always a good idea to clean the automobile windows first before attempting to remove the scratches.
Repairing Scratches With Metal Polish
Step 1
Clean the scratch on the car glass window and the area surrounding it with a soft, damp cloth.
Step 2
Dry the scratched area of the car window with a lint-free towel.
Step 3
Apply a small amount of metal polish to a dry, soft cloth.
Step 4
Buff the metal polish back and forth with the cloth the entire length of the scratch. Buff the polish into the scratch with the cloth until it disappears.
Step 5
Repeat this process for other scratches.
Repairing Scratches With Nail Polish
Step 1
Spray window cleaner on the scratched window glass and all around the scratched area you plan to repair.
Step 2
Clean off the window cleaner with a soft cloth.
Step 3
Paint the nail polish over the entire scratch using the nail polish brush. Dip the brush all the way into the nail polish and buff the polish over the scratched car window another time to be sure you have coated it completely.
Step 4
Apply the nail polish remover to a clean soft cloth to remove all excess nail polish from the edges of the car window scratch.
Step 5
Repeat this process for other scratches.
Tip
Do not use paper towels to clean your car glass windows. Some paper towel products are very abrasive to glass windows.
Warning
When you repair scratches to car windows with metal cleaner, keep the cloth on the scratch. If you wander outside the edges of the scratch, you could put small abrasive scratches on the car window with the metal polish.