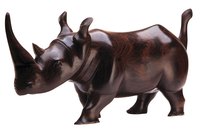 You have put a lot of work into a wood carving. The wood chips have all been cleaned up when you realize that your piece does not look quite finished. It still lacks some of the professional luster that you were hoping for. Finishing wood takes only care and minimal equipment. Even the simplest projects, finished correctly, leave a lasting impression.
Things You'll Need
Sandpaper (60- and 100-grit)
Drop cloth
Quality stain brush
Gloss wood stain with polyurethane
Clean damp cloth
Sanding
Take your 60-grit sandpaper and sand down all the carving's surfaces by hand. Pay close attention and care to small details in the carving. It should lose roughness to the eye but a slight roughness will remain to the hand. Take care not to sand away any fine details.
Sand your carving lightly with the finer 100-grit sandpaper. You will feel the surface becoming smoother to the touch.
Wipe down your carving with a clean damp cloth, focusing in particular on the small crevices in the piece where dust might be trapped. Allow the carving to dry thoroughly before moving on.
Staining
Place the drop cloth under your carving and over anything in your work area that you don't want to risk getting stain on.
Using the stain brush, apply a very thin and even coat of stain. A quality stain job takes a few coats to achieve the proper coloring. Thin coats prevent any unsightly dripping or streaking that may occur with a thick coat.
Consult your stain's label for dry times. If dripping or streaking occurs, let stain dry and then lightly sand with 100-grit sandpaper before applying the next coat. The gloss finish and polyurethane give your piece shine and protection.