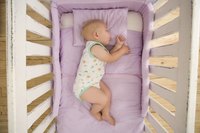 When crafters hear of a new baby coming, they jump into high gear making something special just for the new arrival. Bedding is one of the common gifts that people make for baby showers. You can make bedding for any size baby bed, including a cradle. The only difference between bedding for a cradle and bedding for a crib is that there is no bumper guard and the blankets are smaller. Use the actual cradle as a guide when sewing baby cradle bedding for the new little one in your life.
Things You'll Need
Cradle
Measuring tape
Pen
Paper
Fabric
Scissors
Bowl
1 package of ½-inch wide elastic
Safety pins
Pins
Iron
Quilt batting
Elastic
Fitted Sheet
Make a fitted sheet for the cradle mattress. Measure the length, width and depth of the mattress. Use the pen and paper to jot down all measurements for future reference.
Cut out a piece of cotton to the measurements of the mattress, plus 3 inches all the way around, to make a fitted mattress.
Fold the fabric into quarters, making sure all of the corners match up. Set the bowl on the corner of the fabric so that the bowl touches both sides of the corner with a little extra fabric hanging out at the point of the corner.
Draw around the bowl at the edge of the fabric, using the pencil to make a cutting mark. Cut on the mark to make curved edges for the fitted sheet.
Place the fabric on a flat surface with the wrong side up. Fold under the raw edges to form a casing. Leave a 1-inch opening to insert the elastic.
Measure the distance around the mattress and subtract 5 inches. Cut the elastic to this measurement.
Insert one of the safety pins into one end of the elastic and attach it to the fitted sheet next to the 1-inch opening. Insert the other safety pin into the free end of the elastic.
Feed the elastic through the casing using the safety pin to help you. Pull out the safety pins and sew the ends of the elastic together. Close the opening.
Flat Sheet
Cut a piece of fabric to the same measurements as for the fitted sheet.
Turn under all the raw edges 1/2 inch. Use pins to hold the fabric in place.
Sew all the way around the sheet to form a hem and complete the flat sheet.
Quilt
Cut out enough 4-inch squares of fabric to equal a little more than your measurements for the sheets.
Sew the squares into rows and then sew the rows together. Iron the quilt top.
Layer the quilt top with the batting and some backing fabric. Pin the layers together.
Top-stitch to sew the layers together. Fold under the raw edges and pin to hold the fabric in place.
Sew all around the edge of the quilt to form a hem and complete the quilt.