Things You'll Need
Butterscotch chips

Microwave safe bowl

Plastic wrap or large paper plate

Spoon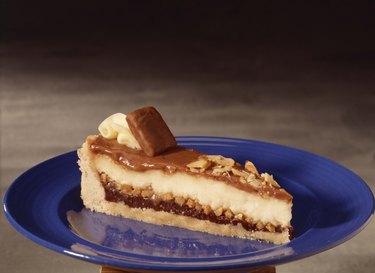 For a twist on traditional chocolate chip recipes, many substitute butterscotch chips. These have a sweet, caramel-like flavor well suited for baking blondies or adding to cookies. Melting butterscotch chips takes care, because, like chocolate, the chips can burn if mishandled. The best tactics: low and slow indirect heating with the microwave instead of melting over direct heat in a saucepan. Once melted, use the butterscotch chips as a replacement for melted chocolate in any recipe.
Step 1
Pour the butterscotch chips into the bowl and cover with plastic wrap or a large paper plate.
Step 2
Set in the microwave and heat using 70 percent (medium high) power for one full minute.
Step 3
Remove the bowl, pull back the cover and stir the butterscotch morsels.
Step 4
Replace the cover and return to the microwave to melt on 70 percent power for several 15-second intervals.
Step 5
Stop the microwave and stir after every 15 seconds following the first one minute of cooking to prevent burning. Use the melted butterscotch chips as soon as smoothly melted.
Tip
Avoid getting water into the butterscotch chips during melting.
Alternatively, place the butterscotch chips into a plastic zip-top bag and microwave on high power for several 20-second intervals, removing the bag after each to knead it and help the chips to melt more smoothly.