Things You'll Need
List of exact cleaning duties

Appropriate cleaning supplies for each task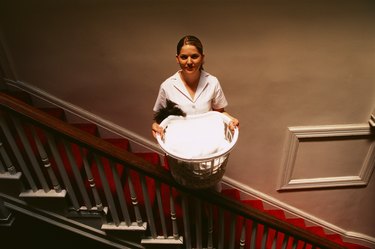 Hiring a housekeeper is easy. Training one you value and trust should be easy, too, but it takes patience and an attitude of respect and appreciation. Most importantly, training your housekeeper takes good, clear communication. Because housekeepers are retrained by each hiring homeowner, they can't possibly know what your picture of a clean home looks like; it's different for everyone. Be prepared to speak up and discuss your expectations in a friendly, open way. Otherwise you'll never be fully satisfied.
Set clear expectations
Step 1
Discuss the requirements of the position and be sure you fully understand what the prospective housekeeper will and won't do. Many won't wash windows, laundry or dishes. Some won't tidy up what you've left out; instead they will clean around your clutter as best they can. Realizing your portion of responsibility–putting away what would normally collect on your counters and bedroom floor–is important for getting the most value out of your housekeeper's services.
Step 2
Make a list of the cleaning you need done. Go through the list with the housekeeper, cleaning with her or walking through the process the first time to show her how you want everything done. Training your housekeeper to clean the way you want requires providing specific instructions for those items in your home that need special care. Assume your housekeeper wants to do a good job and make that possible by clarifying what you want done and how. Whether your high-def television requires a no-streak microfiber cloth for dusting or your rug requires a vacuum without rotating brushes, make sure you spell that out so there's no misunderstanding or damage to your belongings. If you would like to use biodegradable products or if members of your family have allergies to conventional cleaning solutions, make that known as well, and provide all the tools your housekeeper will need to do the job you want done.
Step 3
Keep the attitude in check. The best way to train your housekeeper, beyond being specific about your expectations, is to be kind and patient. It takes time to develop a personal relationship, and that's just what a housekeeper-homeowner relationship is. Let the relationship evolve over time, and within reason, be patient as your housekeeper adjusts to your needs and expectations. Show respect for the hard work your housekeeper does. Stay out of the way, cordon off the dog and keep the children out of her hair as the house is cleaned. Tip well around the holidays and show how grateful you are. The work will be done better each time, as long as you show gratitude for a job well done. Training a housekeeper shouldn't be difficult as long as your instructions are clear and your attitude is positive. It will make your life easier, and your bathroom sparkle.