If you tend to be more of a good witch than a bad witch, you can create this classic Glinda costume for Halloween from an outdated formal dress found at a thrift store. Just add a few handmade accessories to complete the look, and before you know it, you'll be looking just like the most powerful sorceress in the land of Oz.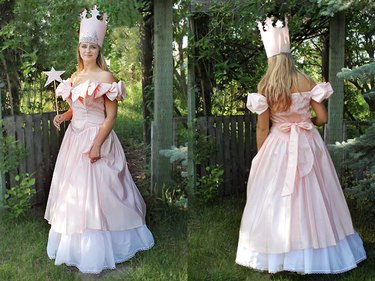 Things You'll Need
Old formal dress (preferably pink or peach)

Crinoline

Iron and ironing board

Pressing cloth (or piece of heavy fabric)

22-by-28-inch piece of white railroad board

Paper scissors


Pink chalk

White glue

Silver glitter

Assorted craft jewels and/or a pre-made jewel applique

Double-sided tape

12-inch narrow dowel rod
Find a Long Formal Dress
When shopping for a thrift store dress to use for your costume, look for a formal dress that has several of the iconic elements of the gown. Your costume doesn't have to be identical to the movie costume, but it should include a shade of pink or peach, have puffy sleeves and be long and full.
Add a Crinoline
If the dress you find isn't full enough, you can check in the wedding dress or formal section of the thrift shop for a long, full crinoline skirt. Quite often, if crinolines haven't been taken care of properly, the tulle will be crumpled up and appear to be ruined. But there are several ways the tulle can be transformed back to its original splendor.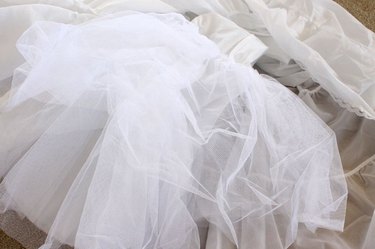 Press the Crinoline
One way to restore a crinoline is to use an iron to get the wrinkles out. Most tulle will melt if it comes in direct contact with a hot iron so be sure to place a thick cotton cloth between the iron and the tulle while you press it. Pressing tulle with an iron takes time and patience, so if your crinoline isn't too crumpled, you might be able to revitalize it simply by hanging it in the bathroom while you take a hot shower to let the steam relax the wrinkled tulle.
Optional: Make Your Own Crinoline
Another option for adding a crinoline to your costume is to make your own. Making your own crinoline isn't as hard as it may seem, and you can find out how to make one in this article: How to Make a Crinoline.
Make a Jeweled Crown
Your Glinda the Good Witch costume wouldn't be complete without the quintessential tall crown.
Step 1
First, cut the railroad board so the bottom of the crown measures 22 inches, the top of the crown measures 28 inches and the sides are 11 inches tall.
Step 2
Cut a pattern from the excess railroad board to use for the design on the top of the crown. Use a pencil to trace this design across the top of the railroad board.
Step 3
Cut out the traced design with a pair of paper scissors.
Step 4
Choose a chalk color that is the same color as your dress.
Step 5
Brush the chalk over the entire surface of the crown using a paper towel.
Step 6
Use white glue to "draw" around the top and bottom edges of the entire crown and any other designs you'd like to include (see Step 10 for a glitter sunburst design idea).
Step 7
Sprinkle the silver glitter over your glue designs and let it sit for an hour or so to dry. When the glue is dry, shake off the excess glitter.
Step 8
Glue jewels onto the front of the crown. You can use a pre-made jewel applique or create your own design using rhinestones, pearls and glass beads. You can also add a small bead to each tier of the crown.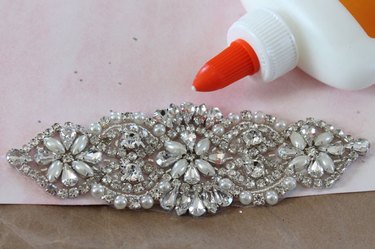 Step 9
You can even add a long earring to the front if you'd like it to dangle over your forehead.
Step 10
To fit your crown, wrap it around your head and staple the overlapped ends together.
Make a Sparkly Wand
Good or bad, every witch costume needs a wand.
Step 1
To make Glinda's wand, cut two matching stars from the excess railroad board, brush the pink chalk over each piece, draw on your desired designs with glue, sprinkle the glue with glitter, and then let it dry.
Step 2
When the glue and glitter designs are dry, place a small 12-inch wooden dowel in between each star (on the backsides) and use double-sided tape to adhere the two stars together.
Assemble the Costume
Layer the crinoline under the dress and let some of the tulle peak out below the dress. Now, grab your wand, don your crown, and look great as Glinda the Good Witch . . . be sure to use your powers for good!