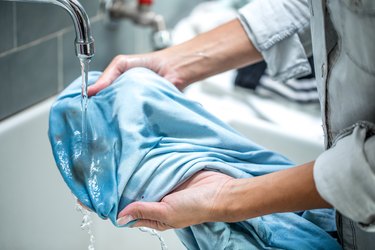 Maybe you left your wet clothes too long in the stuffy laundry room, or discovered mold growing on garments you pulled out of storage. Mold and mildew love damp conditions, and it doesn't take long for visible stains and musty odors to develop on the fabric of your favorite clothing. OxiClean is a popular choice for tackling mold on clothes. It's oxygen bleach, which is gentler than chlorine bleach but still effective for killing mold and mildew.
What to Know About OxiClean
Anyone who was watching TV in the early 2000s probably remembers the OxiClean commercials. Back then, the company sold one product: OxiClean Versatile Stain Remover. Today, dozens of cleaning and disinfecting products fall under the OxiClean umbrella. Often when people talk about using OxiClean, they're referring to that original product.
The company's Versatile Stain Remover is still a good choice for tackling mold on clothing. For mold problems, make sure you're using it – or one of the company's other products specifically designed to treat stains and odors on fabric, such as the combination Odor Blasters Versatile Stain & Odor Remover. OxiClean detergent or OxiClean disinfectant aren't suitable for killing mold on clothes.
Using OxiClean for mold is appropriate for treating cotton, linen and synthetic fabrics that are colorfast, but it's still a good idea to test the product on an inconspicuous spot to make sure no discoloration occurs. OxiClean recommends its Versatile Stain Removers not be used to clean wool, silk, leather or fabrics labeled dry clean only.
Using OxiClean on Moldy Clothes
Cleaning moldy or mildewy clothing depends on the severity of the problem. If the garments smell just a little musty and/or you see small patch of mildew forming, a standard washing might be enough to reverse the damage. Add a scoop of OxiClean to your washing machine along with your normal detergent. (Follow package directions to determine exactly how much OxiClean to add; this depends on the type of washer you have and the size of the load you're washing.)
For more severe mold issues, pretreat clothes before washing them. Use a spot treatment to target visible mold stains. Mix equal parts OxiClean and water in a bowl and use a spoon or clean toothbrush to spread the paste over the stained area. Let it sit for one to six hours, then wash normally with detergent and more OxiClean.
Soaking the entire garment is your best option if you detect any moldy odor. Fill a large bowl or laundry sink with water. Add one scoop of an OxiClean Odor Blasters product per gallon of water and submerge the clothing. Let it soak for one to six hours, then wash normally with detergent and more OxiClean. Check clothing for stains and odors after they're washed and repeat this process if they persist. Don't put still-moldy clothes in a dryer, as the heat will lock in the stains and odors.
Killing Mold on Delicate Fabrics
Since OxiClean shouldn't be used on wool, silk and dry-clean fabrics, you'll need a different approach for these garments. Unfortunately, wool and silk are prone to mold since they're made of natural fibers that easily absorb water. Try using a product that's designed for restoring antique fabric. It should be gentle enough for these delicate fabrics and strong enough to kill mold spores.
Some people swear by lemon juice or white vinegar as a natural alternative to chlorine bleach. You may want to try it as a spot treatment for minor stains. Soak a cotton round or cloth with the liquid and place it over the stained area to moisten it, then sprinkle salt over the area. Let the clothing dry in the sun if possible. Again, test this process on an inconspicuous area of the garment first to ensure no discoloration occurs.
Sometimes, no DIY method works for tackling mold on clothing. If moldy spots or odors linger after you've tried cleaning the clothing yourself, or if mold has grown on cherished items that you don't want to risk damaging at home, ask your dry cleaner for guidance.