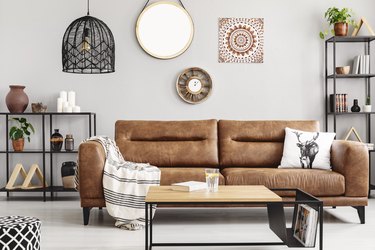 Remember Grandma's clear plastic slipcovers that fit over her living room couches? Today's modern covers look nothing like that, and if you need a non-slip cover for a leather sofa or accessories like slipcover grips, you should have no problem finding them. All modern slipcovers protect your furniture without detracting from its appearance.
When shopping for slipcovers, you'll need to decide what kind of material you want because there is a wide variety of slipcover materials available. Microfiber is popular because it is soft, thick and easy to clean. Cotton and linen are also soft and durable but can become wrinkled.
Polyester is a common synthetic slipcover material and is durable and easy to clean. Its strong fibers resist wrinkling and keep it in shape. Another choice is chenille, which has raised details that provide a nice texture and feel. Faux leather material is a good option if you want to protect a leather chair or sofa. It is also durable, and you can clean it with a wet cloth.
Pet Furniture Covers for Leather Sofas
If you have leather furniture and a pet, you'll want to find pet furniture covers for leather sofas. These are different from slipcovers because they do not cover the entire piece of furniture. You can move them, take them off to clean them and put them back on. Some need slipcover grips or slipcover straps to hold them in place, though; many slipcovers also need these accessories.
The best leather couch covers for dogs are made from soft and comfortable stretchy materials, blend in with your decor and have waterproof membranes and weights that hold them in place. These are sold in different sizes, so if you want to cover an entire couch, you'll need one that can do the job. Some are adjustable and can stretch to larger lengths and widths. No matter the size, though, they should also be machine washable.
Non-Slip Covers for Leather Sofas
If you need to get a cover for a leather sofa, you'll need one that stays in place since leather is slippery. Companies do make non-slip covers that have snug fits. Designs with separate pieces for the cushions generally work better than one-piece slipcovers. Also, look for fabrics that are non-abrasive to leather, like velvet. Quilted designs are also more slip-resistant, as they are a bit heavier.
If you have pets or children, your non-slip leather sofa cover should also be waterproof. It can be challenging to find a slipcover that is not only slip-resistant, waterproof and comfortable but also matches your decor. Those slipcover grips and slipcover straps can undoubtedly be helpful if you can't find a non-slip slipcover that you like.
If you have a leather couch that has seen better days and want a less slippery material, you can reupholster it with fabric as long as the frame is still in reasonable condition. Before making a decision, you may want to contact a local upholsterer to see how much it might cost. The average cost to reupholster a leather couch ranges from $600 to $4,500.