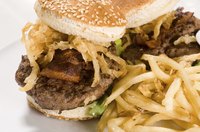 Kobe beef refers to the meat originally from the Wagyu cattle bred in Kobe, a region of Japan. The Wagyu cattle breed produces a more tender, flavorful meat than other cattle breeds. Although Wagyu cattle are now raised in the U.S. and Australia, it is available in a limited quantity compared to other beef and is considered a delicacy. If you get your hands on ground Kobe beef to make burgers, make sure you cook them slowly and carefully to prevent ruining their distinctive flavor and wasting an expensive piece of meat. Do not heat Kobe beef burgers over high heat because if you char them like regular hamburgers, they will lose their delicate flavor.
Things You'll Need
Salt and pepper
Grill or grill pan
Olive or vegetable oil
Small bowl
Kitchen brush
Spatula
Instant-read meat thermometer
Large burger buns
Remove the Kobe beef burgers from the refrigerator at least 20 minutes before you plan to cook them so they can come to room temperature. This helps them cook more evenly.
Pour a thin layer olive or vegetable oil into a small bowl. Dip a brush into the bowl and lightly brush the oil in a thin, even layer across the grill grates or pan to ensure the burgers don't stick when you try to flip them.
Set a grill to "medium high" heat or preheat a cast iron grill pan on the stovetop over "medium high."
Sprinkle the burgers lightly with salt and pepper to enhance the flavor.
Add the Kobe beef burgers to the preheated grill or grill pan and heat for 3 to 6 minutes or until you see that the bottom of the patties have distinctive grill lines. Use a spatula to carefully flip the burgers over.
Lower the grill or grill pan heat to "medium" and heat the burgers for another 3 to 5 minutes, then flip them over again. Continue slowly heating and flipping the burgers every 3 to 5 minutes.
Insert an instant-read meat thermometer into the center of a Kobe burger each time you flip the burgers to prevent incorrectly estimating the cooking time. Remove the burgers from the heat once the thermometer reads 150 degrees Fahrenheit. Serve the burgers on buns.