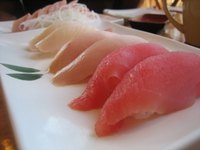 Red snapper fish is a healthy dinner option, whether bought fresh or frozen, using a variety of cooking methods--baking, broiling or grilling. A delicacy on the Atlantic and Gulf coasts, they are distinguished by their red skin and red eyes. With a few ingredients and a little effort, you can put a delicious dinner on the table.
Things You'll Need
Red snapper fillets
Knife
Soy sauce
Salt
Black pepper
Garlic powder
Lime wedges
Grilling basket
Skillet
Vegetable oOil
Green peppers
Onions
Nonstick spray
Aluminum foil
Lemon juice
Parsley
Minced garlic
Rinse the fish under cold water. Cut three 1-inch slits on each fillet.
Pour soy sauce over both sides of the fillets. Let then marinate in the refrigerator for 20 minutes.
Combine salt, pepper and garlic powder in a small bowl. Rub the fish with the dry ingredients.
Cut a lime into sections. Place two slices of lime over each red snapper fillet.
Place fish in grilling basket. Grill fish for 12 minutes or until the if begins to flake.
Heat vegetable oil in skillet over high heat. Reduce heat once the oil begins to sizzle.
Dice onions and green peppers. Place vegetables in the skillet and sauté.
Sprinkle vegetable oil over the red snapper. Season red snapper fish with garlic salt and fresh ground pepper.
Place the fish in the skillet with the vegetables. Cook each side for 5 minutes.
Fish is finished cooking when it is golden brown and begins to flake.
Tear a piece of foil large enough to wrap the fillets. Spray foil with nonstick spray.
Arrange the snapper fillets on the foil. Brush vegetable oil and lemon juice over the fish.
Cover the fish in minced garlic, ground black pepper and parsley.
Seal the foil around the fish. Bring the edges together and create a foil package.
Bake the fish in a preheated oven at 350 degrees. Cook fish for 30 minutes or until the fish begins to flake.