Things You'll Need
Terra-cotta pot

Ribbon

Scissors

Craft glue

Button

Charm

Faux flower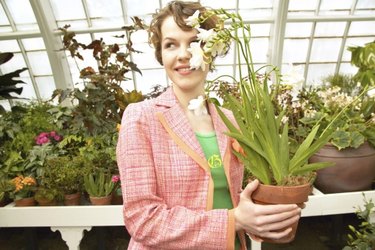 Convert an ordinary terra-cotta flower pot into a decorative centerpiece by adding ribbon. Whether you've chosen to add a colorful embellishment to celebrate a birthday, raffia ribbon for a natural appeal or a glittery metallic ribbon to dress up your favorite potted plant for the holidays, adding ribbon gives the pot a cheery update and festive appeal. In less than a half hour you can secure a ribbon that won't slip off when transporting a classic pot with tapered sides.
Step 1
Measure the circumference of the terra-cotta pot around the area where you want to tie the ribbon.
Step 2
Measure and cut the ribbon. For a long, flowing ribbon, triple the circumference measurement. For a smaller bow, double the measurement.
Step 3
Find the middle of the ribbon. Place a small dab of craft glue on the backside of the ribbon.
Step 4
Press the glue side of the ribbon against the back of the terra-cotta pot, directly across from where the bow will get tied. Hold the ribbon in place. Allow the glue to dry for at least 30 seconds.
Step 5
Draw a thin line of glue on the terra-cotta pot where the ribbon should rest. Press the ribbon into place, working from the rear to the front of the pot.
Step 6
Bring the two ends of the ribbon to the front center of the pot and tie a bow.
Step 7
Let the project dry for 30 minutes to allow the glue to set.
Tip
Hot glue will not adhere ribbon to the porous surface of terra cotta. Use craft glue labeled for terra cotta, ceramics, stone or tile. To add more detail to the pot, snip off the excess ribbon at the front of the pot and use craft glue to attach a button, charm or faux flower over the ribbon seam.