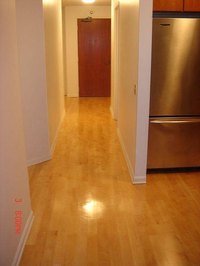 Hardwoods are a popular flooring option for many homeowners, and they work well with a variety of decors. Unfortunately, wood floors can be fairly slippery, and can cause falls or injury to occupants in the home. Slippery wood floors are often caused by wax buildup or high-gloss finishes. By using proper supplies and techniques, you can improve the safety of your floor while maintaining its natural beauty.
Things You'll Need
Vinegar
Water
Bucket
Mop
Anti-skid product
Paint roller
Furniture protectors
Belt or hand sander
Varnish or wood floor sealer
Clean your floor with a solution of one part vinegar to two parts water. Apply this solution using a soft mop, and avoid "flooding" the wood with water. Let the floor dry naturally, or wipe it with a clean, damp mop if there is a lingering vinegar odor. Vinegar will not leave a slippery buildup like many floor cleaners and can help to remove old buildup left by other products. Depending on how much waxy buildup is on the floors, you may need to repeat this process, or increase the vinegar in the vinegar/water solution.
Treat the floor with an anti-skid product such as Skid Safe. While there are a variety of products on the market that prevent slipping, many contain gritty topcoats or aggregates that are unattractive on wood floors. Skid Safe is a liquid topcoat only, and has no gritty texture or noticeable aggregates. This product is painted on using a roller or brush, and has minimal impact on the floor's appearance.
Place non-skid protectors under furniture legs. Furniture that moves too easily on a slippery floor is not only a problem for the floor in terms of damage, but it can also cause injury to residents and guests.
Sand and refinish your floors, if you have significant wax buildup. You can hire a refinishing company to do this task, or perform the work yourself. Remove current finishes using a belt or hand sander, then finish with a light coat of varnish or wood floor sealer. Choose matte finishes rather than high-gloss varieties to prevent slipping.