Things You'll Need
2 pounds ground beef

2 teaspoons garlic powder

2 teaspoons salt

Pepper to taste

Hot sauce or Tabasco

Tomatoes

Lettuce

Onions

Cheese

Mayonnaise

Barbecue sauce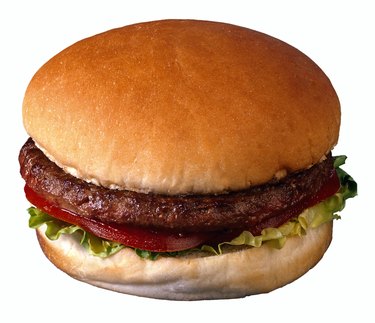 Making homemade burgers on the grill is a fun and easy thing to do at home. Start up the barbecue and mix these burgers while the grill warms up. This homemade recipe adds some spiciness, so tone it down if your family doesn't care for spicy food. Add onion rings to the burger to make a true rodeo burger. Serve with classic sides, such as potato salad or French fries. For a twist, serve with yam or sweet potato fries.
Step 1
Mix the ground beef with the garlic, salt and pepper. Add a couple of drops of Tabasco or hot sauce. Flatten the mixture into a burger patty.
Step 2
Broil the patty on the barbecue for 10 minutes, or until the burger is medium to well done. As the burger gets close to being taken off the grill, place your bun on the grill. Place a slice of cheese on the burger to melt slightly before taking the bun and the burger off if you want cheese on your burger.
Step 3
Add freshly cut tomatoes, lettuce and onions and three to four small onion rings. Cover the bun with barbecue sauce and mayonnaise and mix together.