You will learn how to host a great wedding/bridal shower. Theme and games are included in directions.
Things You'll Need
Seating For Each Guest

Place Setting For Each Guest

Favors

Food For Each Guest

Paper

Invitations

Writing Utensils

Game Prizes
Step 1
I recently helped my mother-in-law host a bridal shower. It was such a pleasant experience that I decided to help others by sharing how we accomplished this feat.
First enlist help. Although you can do this by yourself it is a lot easier and less expensive if you enlist the help of some family and friends. We broke up the tasks of the party to make it easier on everyone (one person made the main course and centerpieces, another person brought the vegetables and cake, another person made the games and prizes and brought the fruit, another person sent out invitations and made favors).
Step 2
You need to decide what type of shower you are going to plan. In this day and age it is not necessarily the brides' place to partake in events alone. Some wedding showers include the husband to be. These showers are thrown more as a couple shower where guests bring spouses. This type of shower can get expensive to throw, as you are essentially doubling your guest list. You need to decide if you are going to make it a themed shower (i.e. garden bridal shower or kitchen bridal shower). This will help guests know what to buy off of the couples registry. Pick a date, time, and place to host the shower and send out invitations about four weeks before the event so that you will give people enough time to accommodate their schedules and receive responses.
Create an estimate of the number of guests that will be coming to the shower. This will help you decide on how much food to prepare.
Create a menu. (We did a chicken salad sandwich on croissant, vegetable skewers, sliced fruit, and a cake for desert).
Decide weather you will be having a buffet set out or if you are going to do plated meals. This helps for time management. A plated lunch will take less time than a buffet lunch if you plate the food a half hour before guests arrive. This also means that you will not run the risk of some guests taking to much food and some guests not getting any food.
Step 3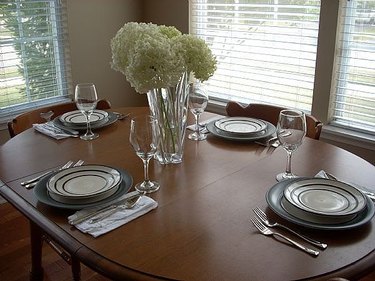 Set up tables with plates, silverware, drink ware (drinks should be poured prior to guests arrival to save on time). Forks are to the left of the plate while knives and spoons are to the right of the plate lying atop napkins. Favors should either be placed at each place setting for guests or placed on an entryway table for guest to take as they depart. In a garden themed party for example, you could buy inexpensive small clay pots and place flower seeds, flower bookmarks, and candy in them. Tie a simple ribbon around the pots in the couples wedding colors to give good presentation to the favors.
Throwing a themed shower also gives the host/hostess a direction for creativity. For example, a garden themed party can have flower centerpieces (a simple vase on each table with hydrangeas will suffice), flower trivia game( a name that flower game), spice smelling game, potted plant favors, and garden tool prizes.
Step 4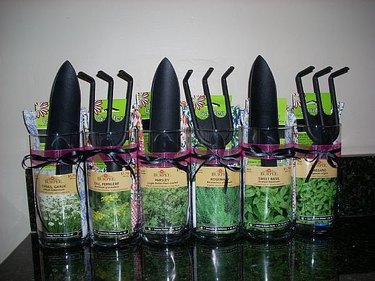 The Shower should flow well. There should not be any large lulls in time, guests will visit with each other during the dining and game play. After guests have eaten there should be one or two games to be played by guests. For the shower I threw I created a wedding movie trivia game with multiple choice questions for the first game and a game I call Spice Delight, where guests have only their sense of smell to use and must guess the spice or herb hidden in several different containers. I awarded prizes to the person with the most correct and the person with the least correct. I had tie-breaker questions ready as well. The prizes I created were simple glass vases I picked up at a local dollar store with a pair of gardening gloves, a garden tool, and a pack of garden herb seeds placed inside. I tied two ribbons around the vase in the couples colors to tie into the rest of the décor of the bridal shower.
Step 5
Before using these games you need to make sure to keep a copy with the answers. The guests' copy of the games should not have the answers highlighted. Once everyone has had a chance to guess the answers, you go over the answer key out loud with the guests. Hand out prizes after each game.
The Tie-Breaker questions I got from Wikipedia.
Wedding Movie Trivia Game 1) In the 1991 film "Father of the Bride", where did the bride and groom, Annie and Bryan, meet? A) Paris B) Rome C) Chicago 2) At the end of the 1989 film "When Harry Met Sally", how long do Harry and Sally say it took them to get married? A) 12 years and 3 months B) 3 years and 10 months` C) 7 years and 9 months 3) What song is playing at the very end of the 1999 film, "Runaway Bride." A) Love the second time around B) You Can't Hurry Love C) Finally Found Love 4) In the 1998 film, "The Wedding Singer", what rock star was on the plane when Robbie was going to Vegas? A) Bruce Springsteen B) Boy George C) Billy Idol 5) In the 2001 film "The Wedding Planner" How do the main characters Mary and Steve meet? A) Steve saves Mary from getting run over by a car. B) Steve hits Mary's car. C) Steve saves Mary from getting run over by a dumpster. 6) In the 2005 film "Wedding Crashers" Who are the two main characters? A) John and Jack B) John and Jeremy C) Jack and Jim 7) In the 2002 film, "My Big Fat Greek Wedding" who says," "The man is the head, but the woman is the neck." A) Maria Portokalos B) Harriet Miller C) Thia Voula 8) In the 1997 film, "My Best Friend's Wedding" Michael made Julianne swear that if they were still single at age __ they would marry each other. A) 30 B) 28 C) 35 9) In the 1987 film "The Princess Bride" What was Miracle Max's favorite food? A) A nice MLT B) A nice Pastrami on Rye C) A nice BLT 10) In the film "Pride and Prejudice" what is the name of the house that the Bennett's live in? A) Netherfield Park B) Rosings C) Longborn Tie Breaker Questions: 1) Wearing a white dress was a trend started by what famous bride? A) Queen Elizabeth *B) Queen Victoria C) Queen Mary
2) Wedding veils from ancient Rome were what color? A) White B) Black *C) Yellow
Step 6
There are seven different spices in seven different containers. Each container has been numbered and covered. This game quizzes your sense of smell and your knowledge of common herbs and spices. Please smell each container and try to identify its contents based on smell and smell alone. Write down what herb or spice you think is in the container next to the corresponding number on your paper.
1) What is the difference between and herb and a spice?
Herbs are, or may be, used fresh. Typically the leaves of annual and perennial plants are used as herbs but sometimes the leaves of woody plants are used. Spices come from plant parts other than leaves such as the bark, roots, buds, flowers or fruits. They are usually perennial plants grown in tropical areas and include things like cinnamon (bark), ginger (root), nutmeg (fruit/nut) and pepper (berry).
2) Where does the herb name Mint originate from?
The name comes from the Greek legend of the nymph Minthe, who attracted the attention of Hades. Hades' wife, the jealous Persephone, attacked Minthe and was in the process of trampling her to death when Hades turned her into the herb (and was ever sacred to him). A symbol of hospitality and wisdom, "the very smell of it reanimates the spirit", Pliny tells us.
Step 7
After the games have been played and prizes have been awarded it is time for the guest of honor (bride/bride and groom, depending on how the party is thrown) to open gifts. Someone must be in charge of writing down what gifts the bride and groom are receiving and from whom they are receiving them from. This is essential for the bride and groom to be able to write their thank you cards. Usually the person in charge of doing this task is the maid of honor, the mother, the mother-in-law, or the groom to be.
Step 8
After the gifts have been opened, there is one more task to be complete. Thank your guests for coming. A simple, "Thank you for being a part of celebrating the union of two wonderful people. We are incredibly happy that you are all here to be a part of the beginning of what I am sure will be a happy marriage. Once again, thank you for coming, thank you for taking the time to be here with us." (If you have favors placed on an entryway table this will help segue the end of the shower and the departure of guests. You can simply add on to the end of your thank you speech, "There are favors for each guest to take home with them on the entry table, please make sure to take one as you are leaving.")
Tip
The guests should have something hard to write on so that they do not poke through the paper when marking their answers. You can do this game whiel guests are seated at the tables or provide a magazine or a book for them to write on. The cups used in the Spice delight game should solid in color so that guests cannot see the spices inside. Also, you can cover the cups with tin foil and rubberbands. The holes in the tin foil should be small so the guests cannot look inside and see the spice. I used a safety pin to poke hole.
Warning
Before starting the Spice Delight game ask guests about allergies. You do not want a guest to have an allergic reaction to a spice or herb in the middle of your party.