Soccer is played professionally on every inhabited continent and is widely considered the most popular sport in the world. Those fans with an artistic side may want to show their adoration for the sport by creating illustrations that can be applied any number of ways, from signs to support their favorite team to homemade birthday cards to a cartoon for the local newspaper. One of the most important elements in the game is the goal, and drawing it can be fun and simple if you know how.
Step 1
Draw a rectangle for the basic shape of the goal.
Step 2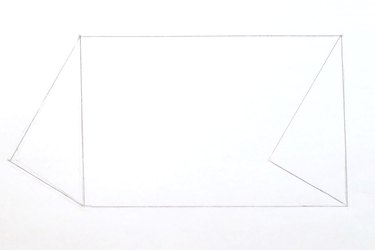 Attach two slanted triangles to the sides.
Step 3
Connect the backs of the triangle with a straight line for the back of the goal.
Step 4
Erase the front line of the rectangle. Now you have the basic shape of the goal.
Step 5
Make the "rim," or inner lines, of the front.
Step 6
Do the same for the triangles and the back line. The goal frame is now complete.
Step 7
Divide the back plane of the goal with numerous parallel lines using the side of the frame as a guideline.
Step 8
Draw more parallel lines for the sides.
Step 9
Draw a second set of parallel lines perpendicular to the first set to create the whole net.
Step 10
Trace the drawing with a pen and erase the pencil lines when the ink is dry. Add color if you wish.