Green beans, also known as string beans, are low in calories and packed with vitamins and fiber. They are high in both vitamin C, a water soluble antioxidant, and vitamin A, a fat soluble antioxidant. The vitamins work together to prevent cholesterol from oxidizing and sticking to the inside of veins and arteries contributing to cardiovascular disease. A high concentration of vitamin K works to build strong bones and promotes proper fetal development in pregnancy. Fresh beans provide the highest concentration of vitamins and nutrients. Even though some nutrition is lost in freezing, the loss is minimal, making frozen green beans a healthy addition to your diet.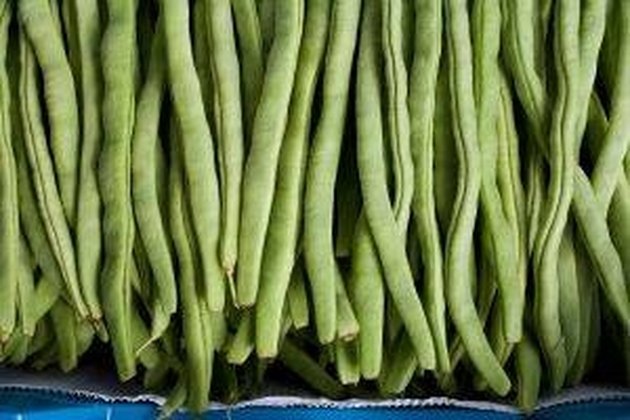 Things You'll Need
Sharp knife

Kettle/cooking pot

Slotted spoon

Colander

Ice water

Freezer bags
Step 1
Pick beans early in the morning after the dew has dried from the vines. Fresh produce is at its freshest in the morning before exposure to the heat of summer sun.
Step 2
Wash in cold water and prepare for freezing by cutting or snapping the ends. Cut into bite size pieces, slice into slivers for French style beans or leave whole for freezing.
Step 3
Blanch beans by bringing a pot of water to a rolling boil. Drop 1 quart of fresh beans in the water and boil for three minutes. This stops the aging process by rendering the enzymes responsible for maturation useless.
Step 4
Remove from boiling water with a slotted spoon and drop into a bowl of ice water. Allow to set for 3 minutes to completely cool the beans.
Step 5
Drain with a colander. Place beans in a plastic freezer bag. Squeeze or press to remove as much air as possible from the freezer bag to maintain freshness and preserve flavor. Check the seal for any leaks.
Step 6
Place in the freezer. Green beans retain their freshness for 8 to 10 months when frozen. To use, simply thaw and cook as you would fresh beans.
Tip
Prepare and freeze beans as soon as possible after picking. Blanching beans prior to freezing preserves flavor and color and extends storage time. Beans that will be used within a few weeks can be frozen without blanching.