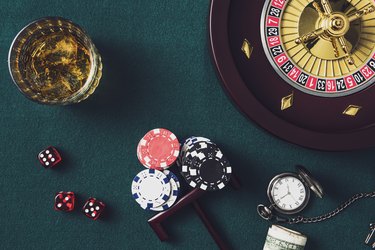 Things You'll Need
Place to hold event

Budget

Profit goal (if applicable)

Theme (if applicable)

Invitations

Decorations

Food and drink

Music (including DJs, piano players, singers or bands, if desired)

Chips, play money, change

Furnishings, equipment, and/or sound system

Servers (bartender, or waitresses)

Dealers

Shuttle for taking drunken guests home

City, county, or state permit (according to your state standards)
Throwing a Casino Night fundraiser party can be a great experience for everyone involved as long as it is done responsibly. Such a party can be hosted for fun, in celebration of an important event like a birthday or anniversary, or to raise money for a church or charity. No matter the reason, the event should appeal to the identified potential audience.
Pick Your Poison for the Casino Charity Event
Determine what type of Casino Night fundraiser party to throw. It might involve card games like poker or blackjack, or expand to include roulette, slot machines, or anything else desired. The key is to have the particular "type" of event in mind. City, county, or state regulations may establish the types of games you can have.
Establish a budget and set a goal for the amount of money to be brought in. Once established, stay within the budget, even if it means changing certain aspects of the event.
Choose a time and place for the party. The location might be dependent on the number of people you plan to invite as well as the various types of games to be played. Whether or not you are serving a full dinner or simply snacks and a bar will also have an impact on the choice of venue.
Pick a theme for the party if one is desired. For example, it could be an Old West Gambling Night, a Vegas Night, a Married to the Mob Casino Night or any other theme you desire. Ask guests to dress accordingly.
Establish the schedule for the night and set down any guidelines that are needed.
Create or Buy Invitations
Purchase or make invitations that fit the theme chosen for your casino night fundraiser. If you don't want a "theme" try sending an invitation glued to the front of a playing card. Invitations should go out no later than 10 days before the scheduled event.
Decide if guests will be asked to dress in character. For an Old West Gambling Night, guests could dress as cowboys and bar girls. For a Vegas Night, guests might dress in semi-formal or formal attire. For a Mob Casino Night, guests could dress in clothing from any era between the '20s and '50s.
Decide on other decorations for the Casino night fundraiser. These too will be dependent upon the theme chosen as well as the location for the event.
Establish a menu for the event. However, keep the focus of the night mainly on the games; not the food.
Arrange for a caterer to provide the food and drink established by the menu. If necessary, hire bartenders and waitresses for the evening.
Decide whether to have liquor, wine or beer. These can be major moneymakers for a charity or church event but there are safety issues and liability involved whenever alcohol is served. Additionally, many cities, counties, and even states require a permit whenever alcohol is served.
Decide if background music is important. If so, consider keeping the music in line with the theme. For example, for an Old West Gambling Night, maybe a piano player is all that is needed. For a Vegas or Mob Casino Night, however, you might opt for a singer or a band.
Make arrangements for any music desired for the event. Hire a performer, DJ, singer, or band as required.
Figure out the best ways to make money at the casino night fundraiser. Charge a dollar amount for chips or play money, if applicable. Set the slot machines to accept a certain type of loose change. Charge for food, drink, or both. If none of those options appeal to you, simply charge a per-person cover fee and let everything inside the event be free. Follow regulations and permit requirements to avoid being shut down.
Make sure the chosen location knows what is expected from them. Some locations may be able to provide tables and chairs, a sound system or even food and drink. Others might not provide anything but floor space, leaving you responsible for everything else that is needed.
Arrange for any equipment, furnishings, and decorations required for the event. There may be local party planners or rental shops that can provide most, if not all, of the things needed to pull off the event.
Keep track of RSVPs to be certain you don't go over the allotted number of attendees as established by the location's fire code.
Solicit prizes for guests who win at games. If the event is for charity, many local businesses may be willing to provide prizes or gift certificates in return for being listed as a sponsor. If the event is just for fun, choose inexpensive "theme" gifts from local gift stores. Purchase one or more grand prizes for the big winners of the night.
Find dealers for Casino Night. These could be friends, volunteers, or professionals hired through a party-planning agency.
Appoint someone to patrol the different games to make sure no one is getting drunk or otherwise out of hand.
Set up decorations at least five hours prior to the event. That way, any last minute changes or necessities can be met.
Make sure the food and drink is set up as much as possible at least one hour prior to the event. While hot or cold items may need to stay within containers until later, table settings, paper goods, and the like should be set up ahead of time.
Set out the prizes at least two hours before the event. Appoint someone, if necessary, to be in charge of tallying scores and awarding prizes.
Welcome guests as they enter the event. Pass out a flier to explain the rules of the night.
Go over any logistics for the night prior to the start of gambling. Make sure everyone understands the rules and how things will operate. Introduce any key participants to the guests such as the person handling the money transactions, the caterer, bartenders, or waitresses.
If alcohol consumption causes guests to become obnoxious, they should be politely escorted from the event so as not to spoil it for the rest of the players.
Arrange for some type of transportation to take guests home who are too drunk to drive. Also make arrangements for how they can pick up their vehicle the next day.
Tip
Location sites might include a church or community organization hall, a community center, or the basement of a home or business. Keep decorations simple so that their expense won't eat into any profit margin.
It is usually best to avoid a sit-down dinner since it will require additional space above and beyond the game room. Opt for a buffet or snacks instead. Make sure the location site is amenable to having alcohol on premises. Check, double check and triple check with the caterer to make sure the food will be exactly as planned.
Consider having valet parking if the event is semi or completely formal. Seek advice from local party planners on planning the event and where to find everything needed to make it successful. If necessary, employ a planner to take the pressure off of you.
Warning
Don't rule out games that aren't typically involved in a Casino Night like bingo or darts. There should be something for everyone who plans to attend the event. Don't require guests to dress up according to the theme. Some people simply aren't comfortable doing that so it should always be optional. Having alcohol on the premises comes with established state rules. Be sure to follow those explicitly to avoid a fine. Casino Night should be fun. It is not for serious gamblers who expect a big-money pay out. Make sure everyone knows that before hand.