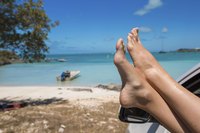 Beaded barefoot sandals can be a nice accessory to wear to the beach or pool, but buying this foot jewelry can be expensive. Instead of paying a lot of money, make them yourself at a fraction of the cost. Select beads that complement your beach outfit, then complete the look by creating a string of them that will ultimately wrap around your toes and ankle to accent your bare feet.
Things You'll Need
18-inch elastic cord
Plastic beads, eight 6mm beads, 16 pony beads, eight matching or contrasting beads
Small piece sewing thread
2 extra large beads, with large hole
E6000 glue or hot glue
Charms (optional)
String the eight 6mm beads onto a piece of elastic cord. Bring up the two ends of the cord so they match. Make sure the eight beads are in the center of the cord.
Bring the ends together and put both ends through the larger bead. If you want to add charms, just add a charm with a jump ring instead of a bead, or between the beads.
String beads onto each side of the cord so they match perfectly. Follow this pattern: two pony beads and then one larger bead. Repeat six times, add one extra pony bead on the first side and tie the end to it while you bead the other side.
Tie the loose ends of the elastic cord in a double knot and push the loose ends back through the last pony beads. Apply waterproof glue to the ends and wrap a small piece of thread around the ends before the glue dries. If the frayed ends of the cord will not fit into the hole of the next bead, you should trim it so it won't show. Apply some glue on the knot and push the last two pony beads together.