Things You'll Need
Mild detergent

Water

Old toothbrush

Soft cloth

#0000 grade steel wool

Sandpaper from 400 to 1200 grit

Automotive rubbing compound

Buffer

Liquid carnauba-based wax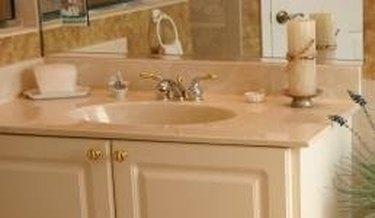 Scratches in counter tops are unsightly and offer an opportunity for dirt and moisture to collect, increasing the potential for microorganisms to spread. Removing scratches is not difficult, though.
Step 1
Clean your vanity top thoroughly with a mild detergent as recommended by your manufacturer if you have a a solid-surface vanity top. Use an old toothbrush to get in tight areas.
Step 2
Remove any existing wax with #0000 grade steel wool or a wax removal product.
Step 3
Use 400-600 grit sandpaper to sand out any scratches if your vanity has a honed surface. If your vanity has a medium surface, use 600-1200 grit sandpaper. If your vanity has a high polish finish, then use 1200-1500 grit. Keep the counter surface moist while sanding.
Step 4
Clean your vanity top with a mild detergent and remove any spots, if you have a cultured marble vanity top.
Step 5
Invest in a cultured marble repair kit to fill in larger holes if your vanity top has chips or nicks that are larger than surface scratches.
Step 6
Apply an automotive rubbing compound, such as a carnauba-based wax or or Gel-Gloss, to the surface. Then buff your vanity top with a car buffer until the shine returns.
Step 7
Be careful not to sand down or sand off the finish of your cultured marble; it is not a solid surface like Corian or granite. If your vanity top is already sanded down, you may need to apply a new finish with a product such as Envirotex.
Tip
Use a cleansing product specifically designed for your vanity top surface. Abrasive cleaning agents scratch and reduce the surface finishes on most counter tops.
Warning
Wear protective clothing and mask off or protect everything you do not want to be covered in splatters or dust. If you apply a resurface treatment like Envirotex, be sure to ventilate the area thoroughly and to follow directions exactly.